Apple Signs contacted us to help with interior painted murals at Anne Arundel Medical Center in Annapolis, Maryland. The extensive project incorporated the images of many different animal silhouettes painted on every parking garage floor. It's an excellent way to provide wayfinding that works. Murals are more memorable than numbers, and letters and they are easier on the eyes too. These simple silhouettes look so much better than Dibond/aluminum signs, and they last longer!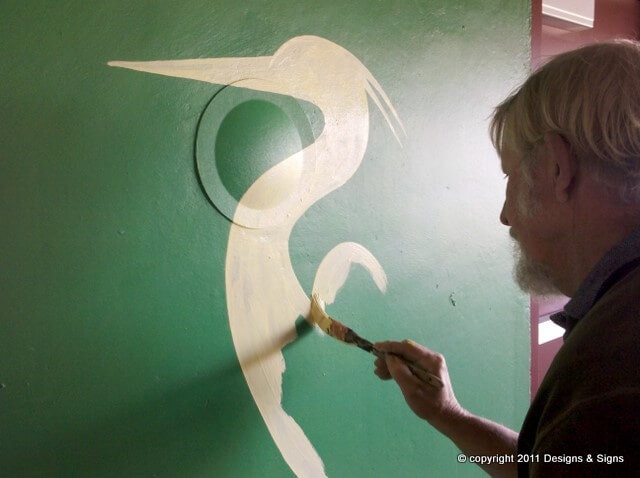 A silhouette of the great blue heron looks great in the garage. Perhaps, the heron is one of the most iconic images of the Chesapeake Bay region. So this garage seems very lovely. However, we have painted more beautiful images. We pained one of the most extensive murals in North America, right here in Baltimore city.
Here are some photos of our best mural ever! And more about the museum exhibit that followed. Without a doubt, we love making painted murals for you!
Mural quotes and site surveys
First, we will send you a quote for approval. Usually, customers approach us with a good idea already in mind for the mural they desire. Sometimes a design is readily available, in which case the quote is easy to do. Before we begin working on your project, you must sign a quote and send us your images and size requirements. Following the deposit, we can do a site survey to determine the best approach and methods. It's important to realize that every mural project is different, with its own obstacles and challenges. For example, some rough surfaces are difficult to paint. Others might include brick outcroppings. Unfortunately, location becomes an issue. Finally, we'll need to be able to get the ring equipment, usually lifts or a trapeze, into place. If this is not possible, we will not be able to paint your mural.