We use pounce patterns to transfer designs onto walls.
Here we have finished a simple architectural mural at Whole Foods Market Annapolis. Designs & Signs painted many different murals throughout this store. First, we create pounce patterns. Next, we tape these to the walls and rub the pattern with a bag of charcoal. The charcoal permeates the pattern through tiny holes, transferring the outline of the mural onto a brick wall. Next, we paint the mural one color at a time, following a plan. We also have installed murals for Whole Foods Markets throughout the Mid-Atlantic region.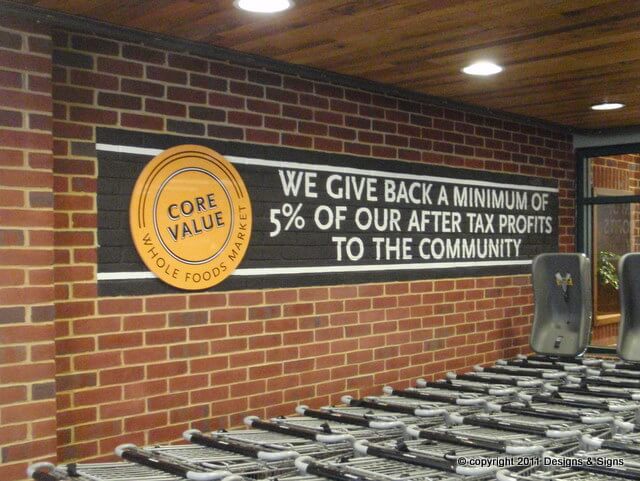 Learn how we painted this mural.
To paint a mural like this, with a dark background and bright letters, we use cutting in. First, we roll a coat of white block filler onto the wallbefore applying another coat of white latex paint. When the paint is dry we use a POUNCE PATTERN to apply the outline of the letters to the wall, a thin charcoal powder outline. Then we use a brush with black latex to "cut in" around the lettering, leaving the white letters exposed. We use this technique because black will cover white in one coat. If we were to paint white letters on top of the black, it would require two coats of white, doubling the labor on the most difficult part of the job!
Another FANTASTIC Architectural Mural by Designs & Signs.
If you need a mural at your business, please don't be shy. Give us a call or send us an email today. We are fast to respond. Hopefully, we can provide you with a quick quote, too, if you are ready to move forward with your project.