A mural and a chocolate shoppe!
What a thrill for our mural to be featured at the Museum of Industry in Baltimore City. Brendon Brando smiles for the camera, and enjoys this fantastic museum exhibit. We appreciate the recognition and Brendon enjoyed telling his story…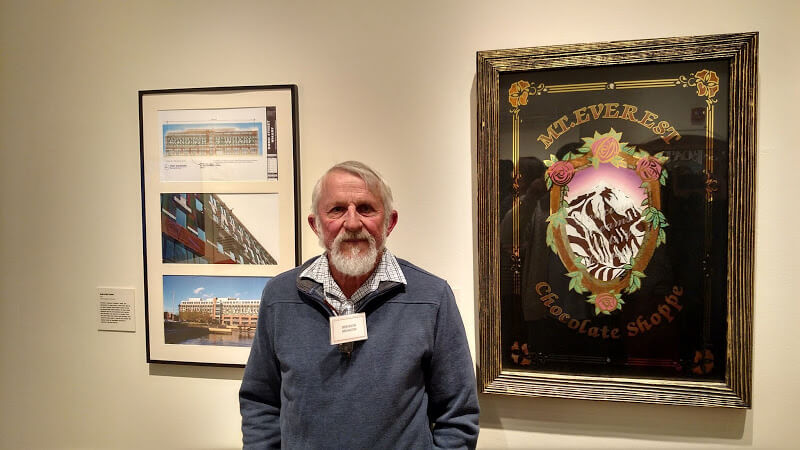 The Bond Street Wharf mural project is on display!
The exhibit was coordinate and installed by Samantha Redles, a graduate student at MICA. Samantha had an interest in the Bond Street Wharf Project and she decided to research it for her senior thesis at MICA. I believe she found us through our website, but i'm not sure. MICA hosted a party for the opening of her exhibit. Samantha gave a lecture to the attendees about the mural. We enjoyed the evening very much, as it's not often to have our work recognized publicly. We thank Samantha for that!
Behind Brendon there are some diagrams of the Bond Street Wharf mural, and some photos of the painting in progress. On the other side there's a Chocolate shoppe sign.  Brendon used gold leaf and hand lettering to create the chocolate choppe sign. I believe some silk screening may have been involved as well.
Bond Street Wharf is located on the north side of the inner harbor in Fells Point. The building is visible from many points around the harbor. The best viewing point is from Federal Hill Park on the south side of the harbor.
Please click here to see some more photos of the beautiful Bond Street Wharf building in Fells Point.