We were contacted by the HOA at Brantwood Overlook a few weeks ago. They have a beautiful stone wall and pillars with an inset polished black granite sign face. However, for some reason there sign was never finished. The original builders applied vinyl lettering to the polished granite face. After a few years the vinyl lettering began to fail and the residents on Brantwood Overlook began looking for a permanent solution.
We visited Brantwood Overlook to take a look at their sign. Within a few days we had quoted the job and the HOA agreed to proceed. Next week we will be on-site to blast and gild. First we'll supply the HOA with a font portfolio to review. Once a font is selected we'll provide them with a scale drawing and mock photo for review. We need to be sure that our customers area satisfied with every detail before the project begins. Sandblasted letters can not be removed so once we begin work there's not going back!
More photos will be posted here next week as soon as we finish this sandblasting project!
We plan to to finish the sandblasted letters with 23 karat gold leaf, it's going to look great!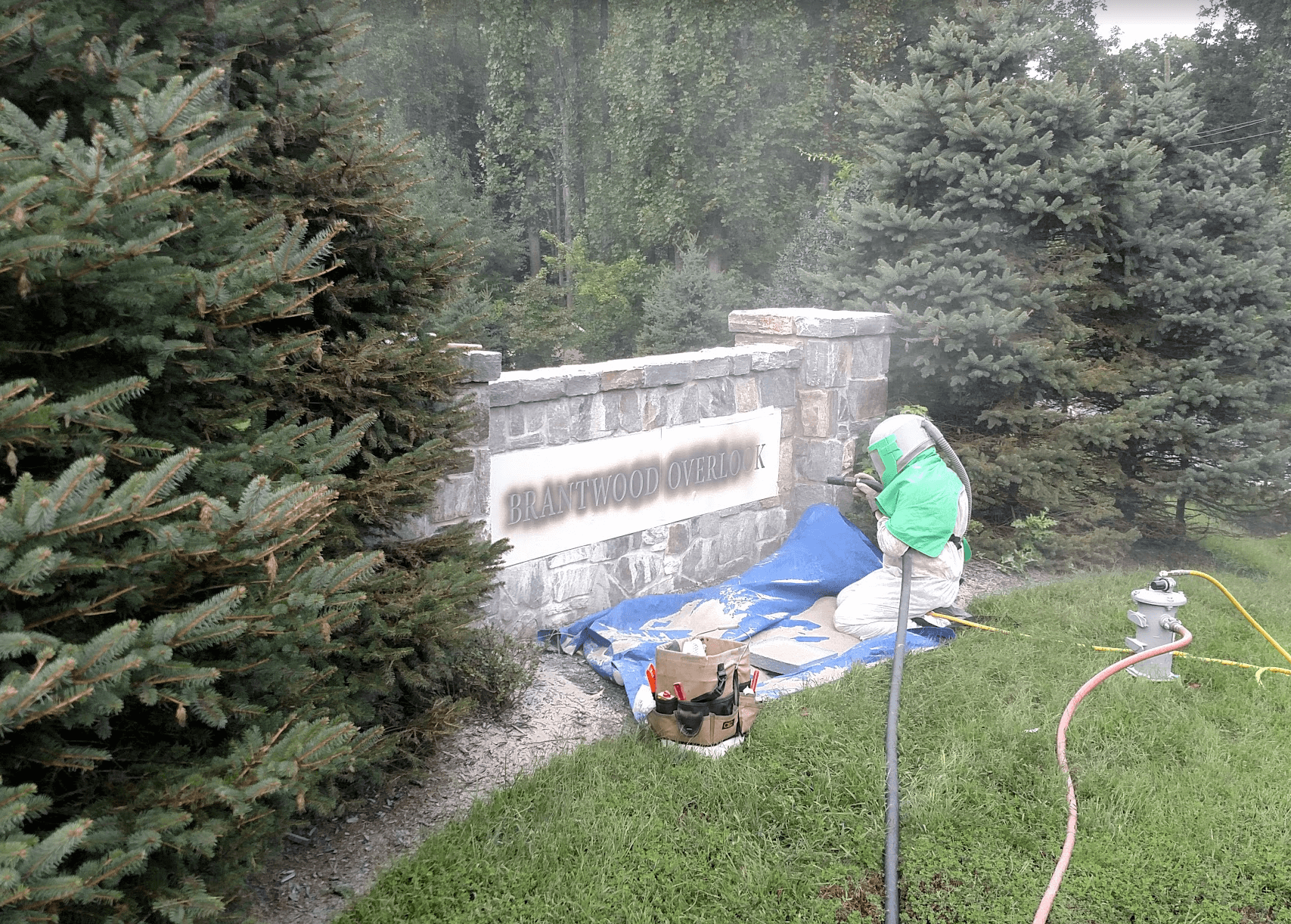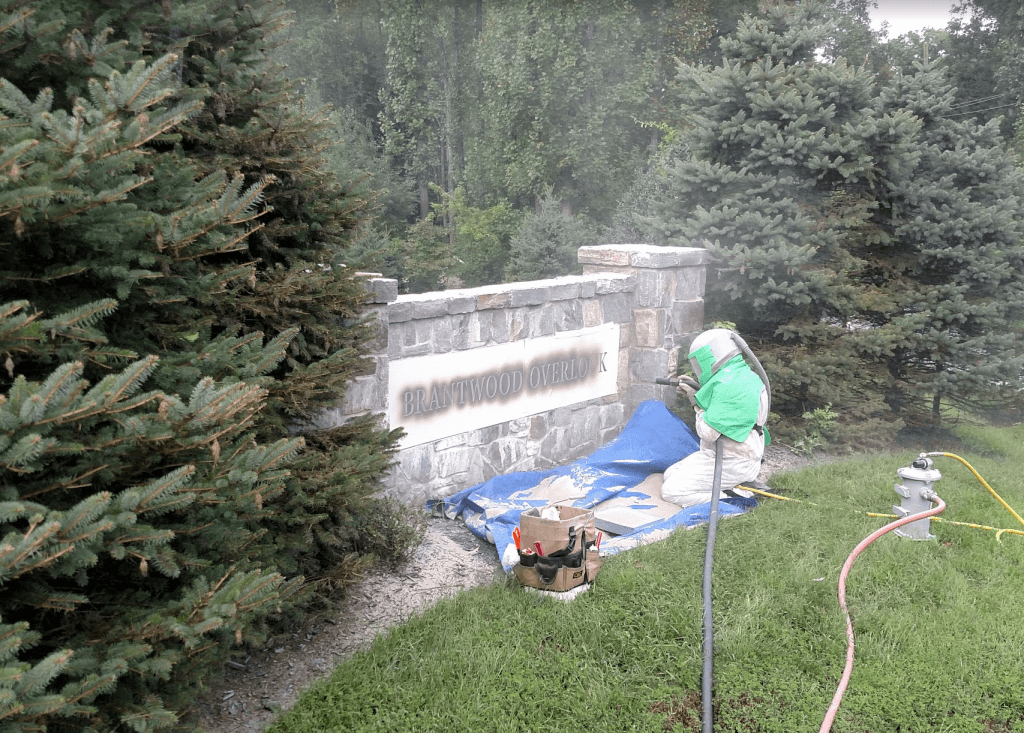 A rubber mask is applied to the wall with strong adhesive. The adhesive is powerful enough even for rough and uneven surfaces. The letters are removed and then the sandblasting begins. The compressor pushes the sand against the exposed stone. The letters are carved out by the sand while the polished granite stays protected by the masking. Kevin uses a sandblasting mask which has fresh air pumped into the mask to protect him from the blasting particles in the air.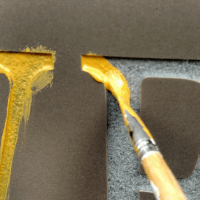 A detailed photo of size being applied to the wall. We leave the masking on as this prevents the size from sticking to the face of the polished granite.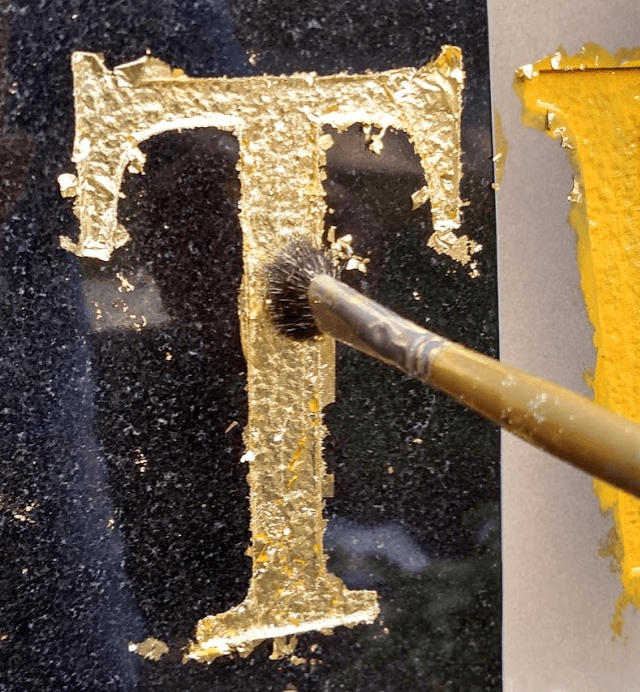 A detailed photo of gold leaf applied to the sandblasted letter. Tamping – a soft bristle brush is used to gently push the gold leaf onto the size.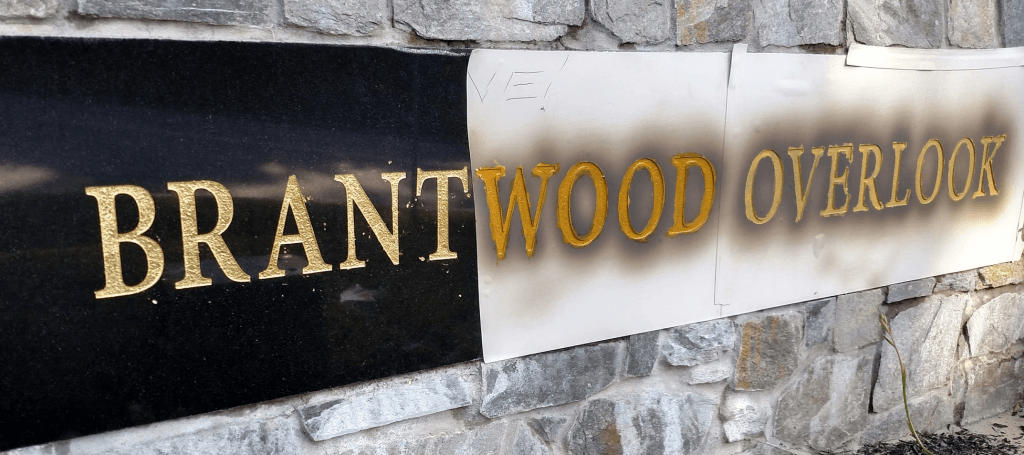 Finished Perfectly w/ 23 Karat XX Gold Leaf!
Was such a great pleasure to work for the HOA at Brantwood Overlook. Now their amazing polished granite sign looks SO MUCH BETTER! Also this sign will last forever…