Museum of the Gilding Arts
Glass gilding / Gold leaf numbers on glass, rendered by hand. Black painted outline with black backup paint. Gilded inline on glass. This piece was donated by Designs & Signs, it is currenly on display at The Museum of the Gilding Arts in Pontiac, Illinois. I believe that the frame is actually a recovered piece of a an old wooden door but i'm not quite sure. Brendon also added some unique inlaid diamond details to the strokes of the numbers. It looks like matte gold leaf diamonds. Those would be applied to the glass before the mirror gold is applied. For an artistic piece these techniques are easy to do if we are working in house. Drying time becomes an issue when we are on site. Every layer of gold or paint requires one hour or drying time or so. When we get into more complex detailing with multiple layers of gold leaf etc. the on site hours required to finish an installation can double with each addtional layer required. Because of this, when we are working on site we are usually applying a double layer or mirror gold leaf. Just that requires usually a full day to complete.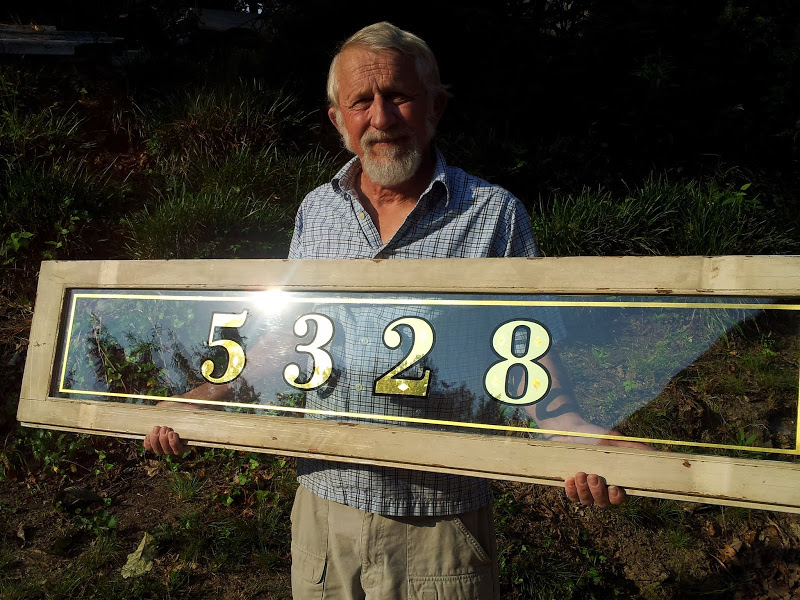 It's an honor to have our glass gilding on display at the Museum of the Gilding Arts!
More GOLD LEAF HOUSE NUMBERS…
---
---