We make boards, and life rings too.
Engine turn gold leaf boat name with a black outline; we designed and installed this excellent yacht transom name for Burr Yacht Sales in Edgewater, Maryland. We also offer hand-carved sideboards with gold-leaf letters and matching custom life rings with gold leaf lettering. Our nautical name boards and custom ring buoys are second to none. We use teak and mahogany to create the sweetest boat name signs that you've ever seen! We promise you'll love them, and you can take it up a notch with matching life rings. Some rings can be tricky to make, and so we price them accordingly. Still, we have not come across any boat name that we could not put on a ring to this day. Arching certain letters styles can be complicated. But, our lead designer, Travis Brandon, can do it.
Please email us for a price.
If you need a price for a boat lettering, please send us an email. Try to provide as much information as you can. What is the new name port? Will we be removing any old lettering? Do you have any relevant photos of the boat? Where is the ship located, and is it in or out of the water? Finally, do you have any color preferences? We offer all Avery premium cast vinyl.
Additionally, we can use gold leaf and silver leaf films, with their different professional-looking finishes. All of our luxury films come with engine turn, florentine swirl, or burnished; choose whatever style suits you best! Florentine provides creative flare. Engine turn is traditional and sparkles with reflective patterns in the sun! Burnished is our most conservative film. It looks great in every situation.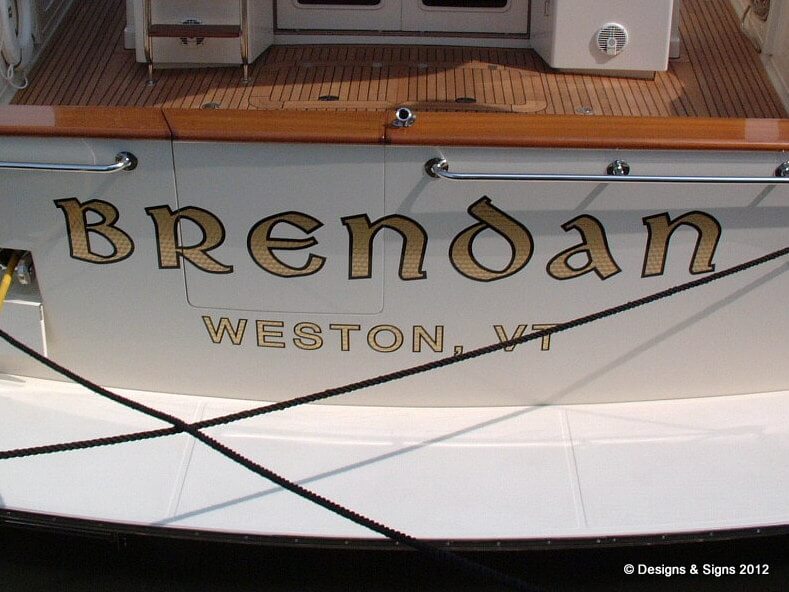 And another Cool Gold Leaf Boat Name.