How do I choose a font for by boat name?
Beautiful gold leaf yacht lettering makes any fancy boat look even better. We always do our best to make every yacht, big or small, look fantastic. Gold leaf makes our job easy! You need little more than a nice font, and then allow us to do the rest. We know what fonts would look good, and we'll send you those first to consider. When you choose a font, we can provide a drawing for review. Keep in mind that not every style of typeface is appropriate or effective for use on your vessel. There are limitations to the materials we use and some typical size constraints that we must always consider when creating and installing boat lettering on the transom of your luxury yacht.
How do we outline the gold leaf yacht lettering?
Specifically, this part of the process is counterintuitive. First, we put the black outline onto your hull, and then after that, we place the 23 karat engine turn gold leaf letters one at a time, carefully over the outline. Our newer gold leaf films last 15 years outdoors while the premium vinyl. However, our black and blue vinyl will last no more than ten years. We recommend changing your boat name every eight years. As soon as your name starts to look weathered, it's a good idea to change it.
We can remove your old yacht lettering.
If you need an old name removed, that's not a problem for us. Our installers will go to your boat first to remove the names and compound the hull too. Compounding your Gelcoat helps to remove any shadowing that the old lettering might leave. Over time, the elements deteriorate the surface of your vessel, but the Gelcoat beneath the lettering is protected. So when we remove the lettering, you would be able to rub your hand over that area, and you could feel and see where the old name used to be. It makes sense because the elements, saltwater, brushes, and cleaning fluids never touch the surface beneath the vinyl letters. The good news is that we can get rid of that before we put on your new boat name.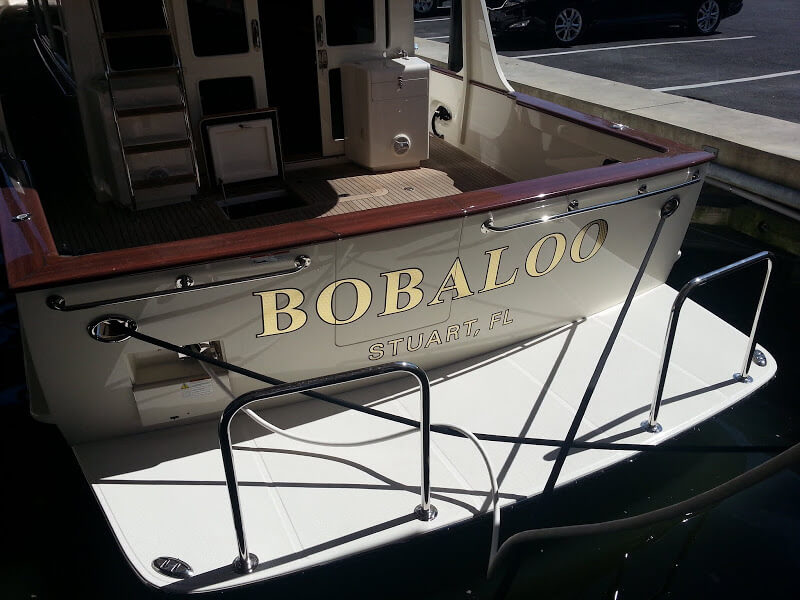 Our gold leaf yacht lettering is Perfect!
Designs & Signs creates the best fancy boat names on many Fleming Yachts at Burr Yacht Sales in Edgewater, Maryland.  Simple, choose a handsome font, and let our gold leaf films do the heavy lifting. Spectacular! The engine turn helps our gold to catch the sun brilliantly from any direction. These boat names sparkle on the water!
If you need a quote for a new boat name, please contact us by email or call soon, and we'll be sure to respond promptly!