Your satisfaction is guaranteed.
Glass gilding at a private residence in Washington, DC; the process is quite involved, requiring many steps and perfect timing. Designs & Signs has many years of experience in the gold leaf trade. Our guarantee is a perfect installation every time, and your total satisfaction with your sign. If you have the time, please take a moment to review our site. Our photos and residential projects speak for themselves. The quality of our work is something we pride ourselves on every day. We are constantly pushing ourselves to improve our services and signs in every way possible to benefit our customers, vendors, and many friends!
Learn more about our Transom Window House Numbers.  Detailed information and photos of the process from start to finish!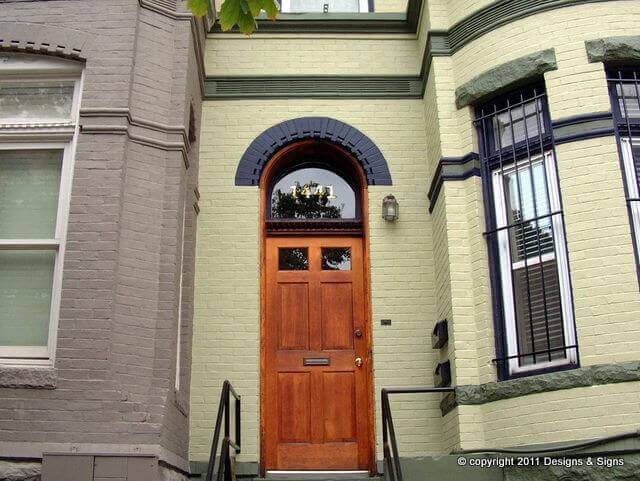 Traditional Glass Gilding for Historic Homes.
If you need gold leaf lettering for your home or business, don't hesitate to get in touch with us for a quote! We have provided traditional gold leaf numbers on transom all over Washington, DC. We also put numbers on the entrances of homes in Northern Virginia, Annapolis and Baltimore too. Between travel to and from plus five hours on-site, any gold leaf job requires a full day of labor to complete. So these jobs are priced accordingly. There is no substitute for the real thing, and we implore all of our customers to stick with traditional hand-applied gold leaf and palladium leaf. We offer films, but generally, we suggest their use in high traffic areas only, where traditional leaf might be more easily damaged.
How can I order gold leaf house numbers?
First, send us an email or call and leave a message. We will respond as quickly as possible. We'll need a small deposit on the job to get started. After you provide a deposit, we will promptly send a font portfolio to review. Usually, the most traditional fonts are helpful. A font like Clarendon, with attractive ball terminals, is popular and historically appropriate. However, we also have more conservative sans serif fonts and even art deco fonts too.
Choose one font from our portfolio!
At this point, we kindly ask you to choose one font, not ten! Once you select your favorite font, we'll provide a drawing with measurements. The typical size, like price, is a 5-inch number height. Increasing the size of the characters will increase the price because the job takes longer if the gilding area is more extensive than usual. Your final designs will include measurements and options for outline and outline with shadow. Also, please email a photo of your transom to us, along with measurements of the transom. With that, we can be sure that your numbers will be the right size to accommodate your home. Generally, five-inch numbers will do the trick!
Please see more glass gilding projects.