Cedar signs manufactured and installed by Designs & Signs at The Smithsonian Environmental Research Center in Edgewater, Maryland. A total of seventeen similar way finding signs were installed at this location. Each sign was constructed with cedar plank. The routed komacel letters were finished with automotive paint and pin-mounted with stainless steel pins. The circular logo was printed and mounted on komacel. UV protective clear coat was used to protect the bright printed colors.
---
About Smithsonian Environmental Research Center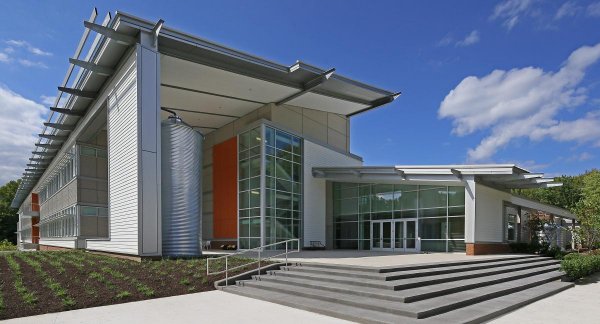 Charles McC. Mathias Laboratory at SERC. Photo source: SERC
A southern Maryland dairy farmer named Robert Lee Forrest died in 1962. In his will, he bequeathed to the Smithsonian Institution his 368-acre Java dairy farm and other holdings along the Rhode River in southern Anne Arundel County, Md.
The Java farm and surrounding area provided a wide variety of suitable habitat for terrestrial, wetland, and estuarine field biology. The center was officially established as the Chesapeake Bay Center for Field Biology in 1965.
In 1970, the Chesapeake Bay Center for Field Biology changed its name to the Chesapeake Bay Center for Environmental Studies (CBCES). By this time, a botanical survey of the site had already been conducted, the watershed had been mapped and weather data had been collected.
By 1974, it was becoming increasingly obvious that the site needed resident scientists to develop a long-term research theme. Thus, the first staff scientist was hired to work on site that same year.
Scientists at Rockville, Maryland's Smithsonian Radiation Biology Laboratory (RBL) moved to the Chesapeake Bay Environmental Research Center between 1983 and 1985. The Chesapeake Bay Environmental Research Center was renamed the Smithsonian Environmental Research Center (SERC) in 1985 after the RBL closed.
Today, SERC encompasses over 2,500 acres of land. More than 180 researchers, technicians, and students carry out their work at SERC in Maryland and at field stations from Alaska to Antarctica, and from Belize to Australia.
Source: Smithsonian Environmental Research Center
Source: YouTube
For more information about SERC or to plan your visit, please visit the links below.
---
Sandblasted Signs for YOUR Business Too!
---
MORE PHOTOS (cedar signs) COMING SOON!
We are currently working on some new signs for the Research Center we'll be posting those photos soon!