Designs & Signs manufactured and installed many cedar signs at The Smithsonian Environmental Research Center in Edgewater, Maryland. This campus provides seventeen similar way-finding signs for visitors. Way-finding signs allow visitors to navigate the expansive property confidently. We tie together many cedar planks to create these large sign faces. We also use threaded stainless steel pins to attach the letters to the front of each sign. Patterns ensure accurate drilling and placement of each letter. A solvent ink printer produced the circular sun logo, and then we mounted it on komacel. UV protective clear coat shields the letters from harmful exposure to sunlight. Letters live longer, and colors remain bright after many years of service.
WOODEN SIGNAGE CARVED FROM CEDAR IS THE ONLY CHOICE
Choosing a material for your carved wooden welcome sign is one of the first things you need to consider. You should select wood because it looks natural and timeless. In addition, if your sign is displayed outdoors, you will need durable wood to withstand multiple weather conditions over time without becoming cracked, damaged, or flawed. Western Red Cedar is the best choice to create custom-crafted signs because of its unique characteristics.
The cedar tree's durability is legendary, as it is dimensionally stable. Accordingly, it will not warp or crack, as other kinds of wood do. The fact that it will withstand nature and weather also means it'll look great for a long time.
Cedar is also resistant to decay and does not rot. Therefore, Western Red Cedar is the best choice for carved wooden signs. In addition, natural oils in the wood prevent deterioration from happening as this preserves the wood from decay.
Furthermore, Western Red Cedar will not tend to bow or sag with time. Your sign will remain straight and visible for the duration of its use. Your sign will last forever and continue to look just as beautiful as it did on day one. It is self-preserved, so you do not have to spend much time taking care of it. New coats of stain or latex paint can be applied as needed.
About Smithsonian Environmental Research Center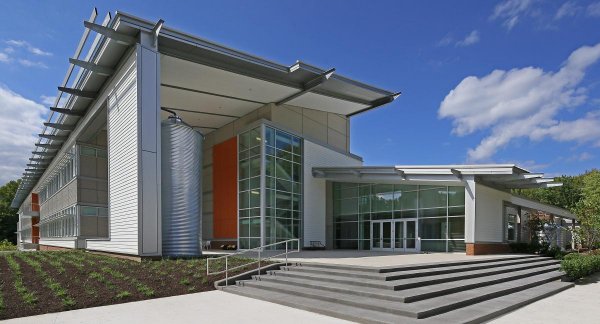 Charles McC. Mathias Laboratory at SERC. Photo source: SERC
A southern Maryland dairy farmer named Robert Lee Forrest died in 1962. He bequeathed his 368-acre Java dairy farm and other holdings along the Rhode River in south Anne Arundel County, Md.
The Java farm and surrounding area provided a wide variety of suitable habitats for terrestrial, wetland, and estuarine field biology. Thus, the federal government established this center as the Chesapeake Bay Center for Field Biology in 1965.
In 1970, the Chesapeake Bay Center for Field Biology received a new name, The Chesapeake Bay Center for Environmental Studies (CBCES). By this time, researchers had already completed a botanical site surIn addition. Surveyors had mapped the watershed, and scientists had collected weather data.
By 1974, resident scientists began working on-site to develop a long-term research theme. In 1983, Scientists from Maryland's Smithsonian Radiation Biology Laboratory (RBL) moved to the Chesapeake Bay Environmental Research Center. The new name of Chesapeake Bay Environmental Research Center is Smithsonian Environmental Research Center (SERC).
Today, SERC encompasses over 2,500 acres of land. More than 180 researchers, technicians, and students work at SERC in Marylandand field stations from Alaska to Antarctica and Belize to Australia.
Source: Smithsonian Environmental Research Center
For more information about SERC, please visit the links below.
---
Our Sandblasted Signs for YOUR Business Too!