Howard Rogers is an artist by trade.
Howard L. Rogers is a marine artist, illustrator, woodcarver, and cabinet-maker. He perfected his carving when he trained at Her Majesty's Dockyard in Chatham, England, from 1960 to 1976. Marine Artist Howard Rogers has50 years of carving experience, making him one of the best carvers in the United States. But, perhaps, he is the best. First, of course, Howard won the city & guilds of London medal for ship joinery in 1963. Then two years later, he placed first again. Mr. Rogers also did an apprenticeship in joinery. As a draftsman, a metalworker, and a wheelwright, he practiced a variety of skills. Finally, Howard came to the United States in 1970 to build custom yachts and workboats.
Annapolis welcomes marine artist Howard Rogers.
In 1977, Mr. Rogers moved to Annapolis. Notably, he founded the RavenMaritime Studio in 1984. He has always specialized in making hand-carved nameplates for luxury yachts. Additionally, his shop produced boards for local businesses and homes. Howard operated The Raven Maritime Studio on Severn Ave. in Eastport from 1984 to 2012. He does all the work by hand, except for milling and shaping the boards. Presently, Howard Rogers is one of the best sign carvers in the country. Truly a master at his craft, he is the best!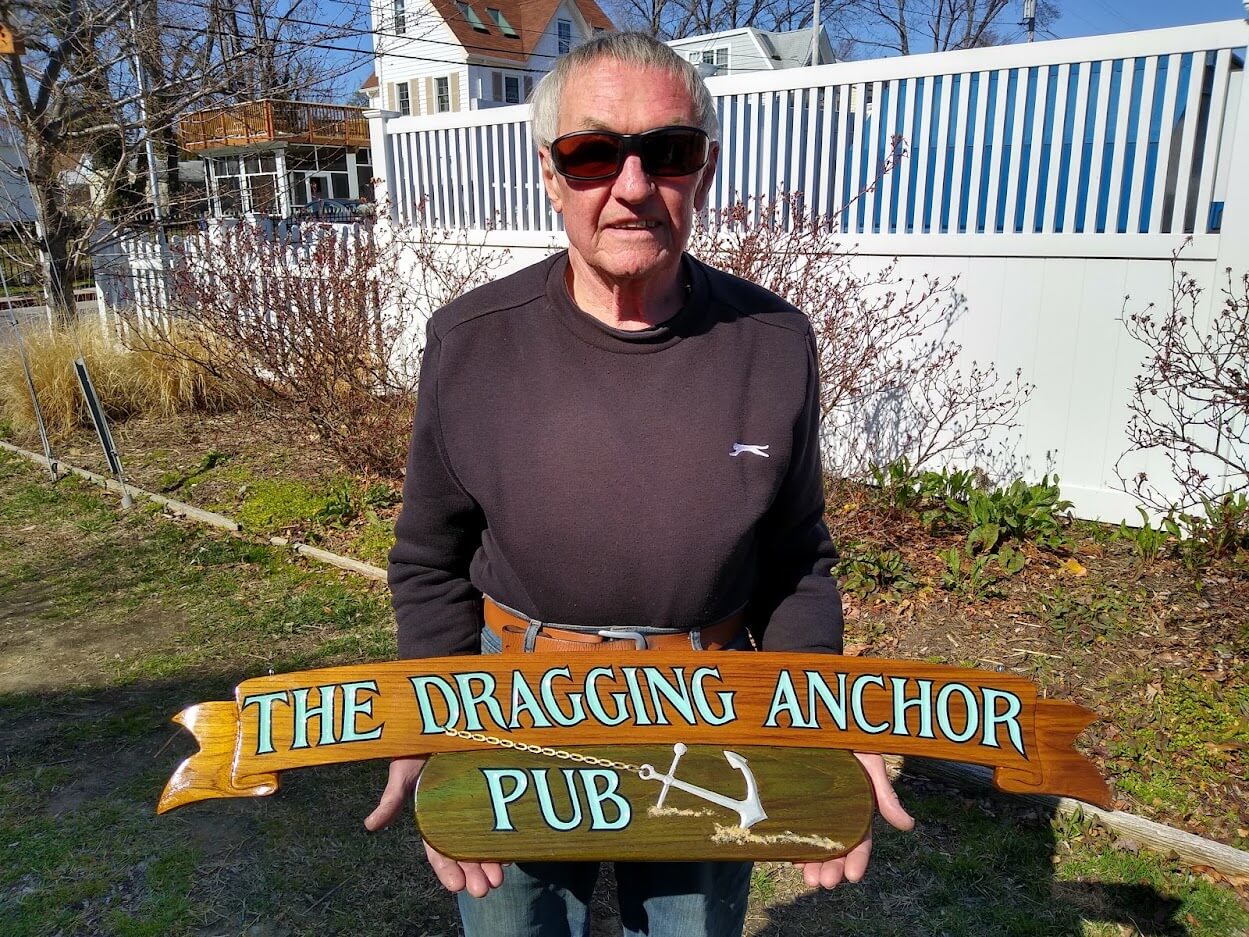 The ancient art of making signs begins around the world.
The practice of making signs dates back to prehistoric times. In the past, early humans created cave paintings to record history. It was important to share cultural information with future generations. Typically, Egyptians engraved hieroglyphics on their monuments and temples. On the other side of the globe, Mayans made similar carvings in their temples and public places. Likewise, Greeks and Romans carved stone letters to communicate important information to citizens. New Zealanders still practice Whakairo, a traditional form of wood carving.
Sign making flourishes in Europe
At the dawn of European history, most people were illiterate and uneducated. Messages communicate information to people without using written language. Artists used eye-catching images to attract attention during this period. Signs often had no words on them. In traditional European pub signs, you can still see some characteristics of medieval Europe.
The lettering appears in early religious documents.
Monasteries were centers of learning, culture, reading, and writing. In particular, hand lettering adorns the walls of Gothic cathedrals around Europe. Following Johannes Gutenberg's invention of the printing press, literacy rates soared across Europe. Consequently, higher literacy rates led to the widespread use of written signs. Around this time, artists painted signs for British and American pubs and taverns.
Shipcarving was an industry parallel to sign painting.
In the United States, sign makers began carving quarterboards as well. A sailboat's quarterboard carried its name. A ship with a well-made quarterboard is much easier to identify. Certainly, carved letters are more durable against the elements. Frequently, in taverns and homes, the quarterboards from shipwrecks hang prominently. Presently, a large number of people around the world continue to collect quarterboards.
Sign making changes during industrialization
In the early nineteenth century, industrialization began. First, as the merchant class emerged, advertising transformed the sign-making profession. Then, signs for advertising increased in Europe and North America. Since the early 20th century, the sign industry in North America has grown enormously. As a result, there have been many changes since the 1960s. Without a doubt, the gold leaf and lumber we use at Designs & Signs are the finest available. Our carved signs are, therefore, the best and most beautiful on the market.
The organization of industry
Various sign-making associations assist traditional signmakers. Associations organize events where sign makers can exchange information and ideas. A few sign makers in the United States offer short courses in sign production and design. In addition, industry-related periodicals provide instructional material about a variety of sign-making techniques. Today, traditional sign making remains an exciting and popular practice around the world. Young people are often eager to work with their hands. Creating signs by hand is a satisfying experience. We hope that this trend continues.
See more signs by Marine Artist Howard Rogers