Can we make mahogany quarterboards?
First, we start by choosing the perfect planks of wood for your boat signs. Then, offering both teak and mahogany quarterboards, we select your exotic wood for the appearance of its grain and the carve-ability of the grain. But, of course, not every board is well suited for hand-carving, so we reject boards that show any imperfections whatsoever. When you commit to hiring us, of course, we'll need a deposit, and then we can begin working for you!
How do we design a mahogany quarterboard?
First, we'll send you suitable fonts for review. Be aware that not every don't is ideal for carving, and also, some fonts won't fit well on a horizontal board. Next, we'll send you fonts that will work well on your quarterboards. Below, you can see in the photo that this script font does not have tall ascenders or descenders. However, the font fits nicely on the quarterboard. Many script fonts would not work well for making a mahogany quarterboard.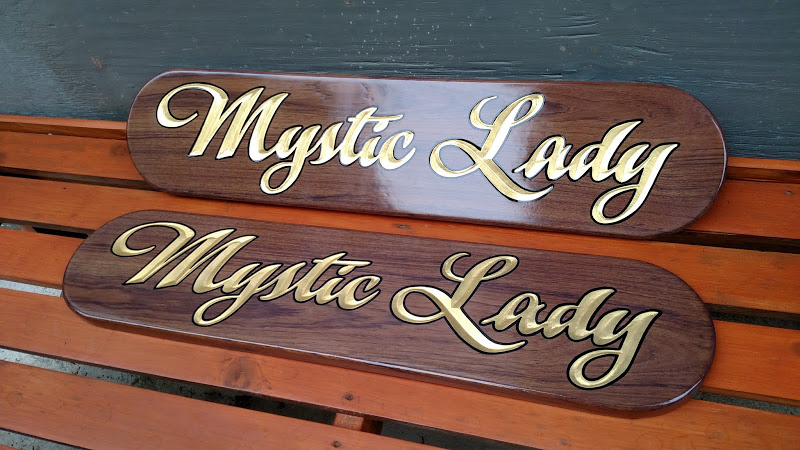 How do we make mahogany quarterboards?
After you choose one font, then we'll provide a drawing for review and revision if needed. Once approved, we will provide paper patterns to our carver, who fashions the wood by hand. Carved by hand, these letters require skill and patience. We are blessed to have Howard Rogers on our team to deliver perfect carved mahogany quarterboards every time! When we receive the boards, we sand them and wash them to remove surface oils. Applying at least six coats of spar varnish is step one. Step two is sanding and the gold leaf application. When we finish the gold leaf, we can paint the outline by hand. Completing the boards requires at least ten more coats of spar urethane.
Urethane and Varnish are compatible.
We use old-based products, so our varnish and urethane are compatible. Before we apply the heavy topcoats of urethane, we inspect each board closely with powerful reading glasses. In this manner, we can spot any minor imperfections in the gold leaf lettering or outline. We can address those accordingly. After applying at least ten coats of urethane, we give the boards one more good sanding before applying the final topcoat. Our boards look perfect, glossy, and smooth, just like glass!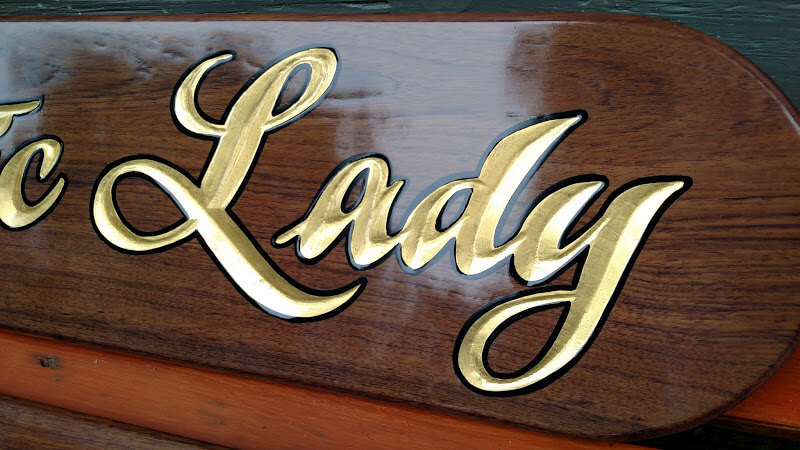 How carved letters look before we gild.
Below, you'll see a great photo of the unfinished mahogany quarterboards. We wash and varnish the boards to get them ready for the gold leaf lettering. These boards are just about prepared for gilding to begin. Before we start adding gold leaf, we'll need to give them a very light sanding.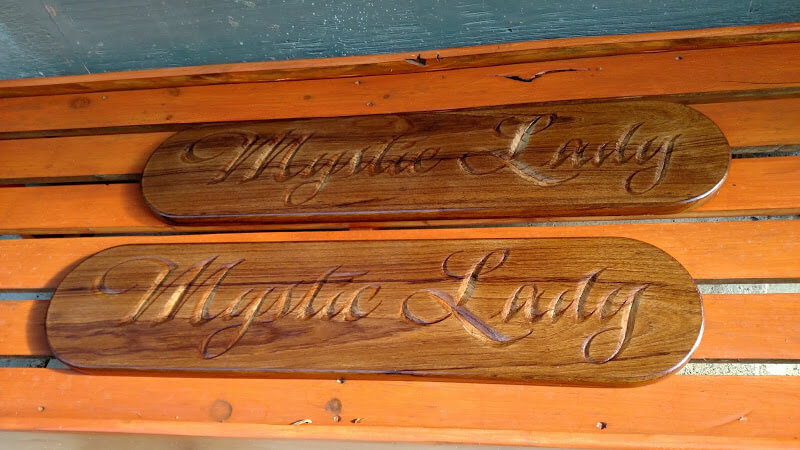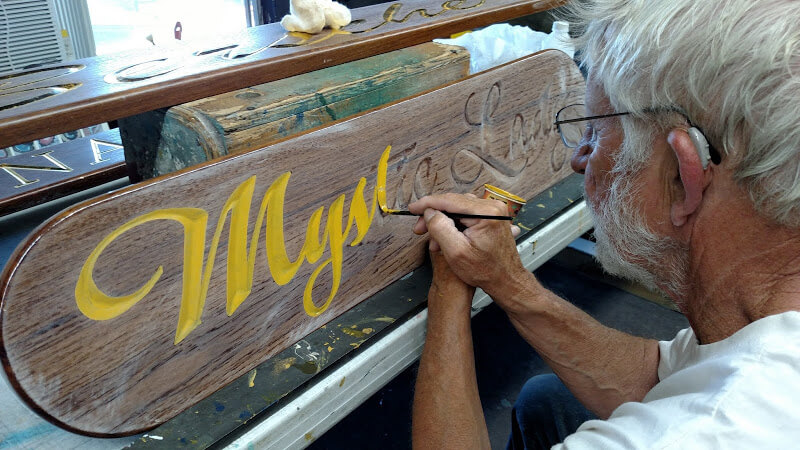 We apply size to the carved lettering.
Brendon carefully uses a lettering brush to paint the size into the carved lettering. When the size begins to feel tacky (not too wet and not too dry), we place the gold leaf carefully onto the letters. The final step is outlining the gold leaf by hand, again with a fine lettering brush. Usually, we use black to outline gold leaf or palladium leaf lettering. It creates the most contrast and makes the gold leaf letters look their best. If you would like us to make your mahogany quarterboards, please contact us as soon as possible!