Hand lettering done right. Murals of course! Something nice for Something Vintage Rentals.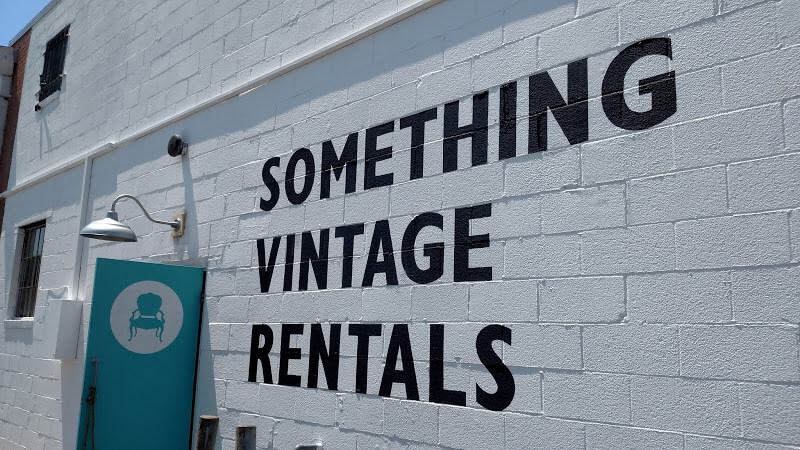 Hand

lettering by Designs & Signs, and some stenciling too!

Handsome hand lettering for Something Vintage Rentals near Washington, DC. First we use a pounce pattern to transfer outlines of the letters onto the wall.  A pounce pattern is basically a drawing of the lettering with small holes in it. We use an electic pounce pen to trace the pattern, and the small pulses of electricity burn tiny holes in the paper. When the paper is taped to the wall we rub it gently with a cloth bag filled with charcoal pattern. The charcoal passes through the holes in the pattern and leaves a faint outline of the lettering on the wall.

Next we paint the letters by hand. The trick here is being able to paint accurately on an uneven rough surface. You can see from this photo that this particular wall was problematic. With experience and patience and the right brush, anything is possible!
A bit about stenciling, it's not easy…
The logo on the door has some small details in it, and so it would be difficult to paint by hand. In this situation we prefer to use a stencil. It requires experience and patience, and the use of many different materials and brushes. It is actually very difficult to do correctly.
We use many different types of stencil material. Stronger high tac stencils work well on rough surfaces (brick and wood).  Light weight low tack stencils are better for smooth painted surfaces and glass.
When using a stencil it is important as well to pick the right brush and the right type of paint. Pretty sure that we used exterior latex for the black lettering, but on the door we used white enamel. We use a dry roller to apply multiple light coats of white enamel to the stencil, and then before the paint dries we slowly remove the stencil.
Check out the coolest mural we ever painted, at Bond Street Wharf in Baltimore City!