Gold Leaf Boat Names
Designs & Signs! We will designs and install the best boat name for you. We service marinas in Annapolis and Edgewater. For luxury yachts and larger sport fishing boats we do travel to Washington, DC and Ocean City, MD.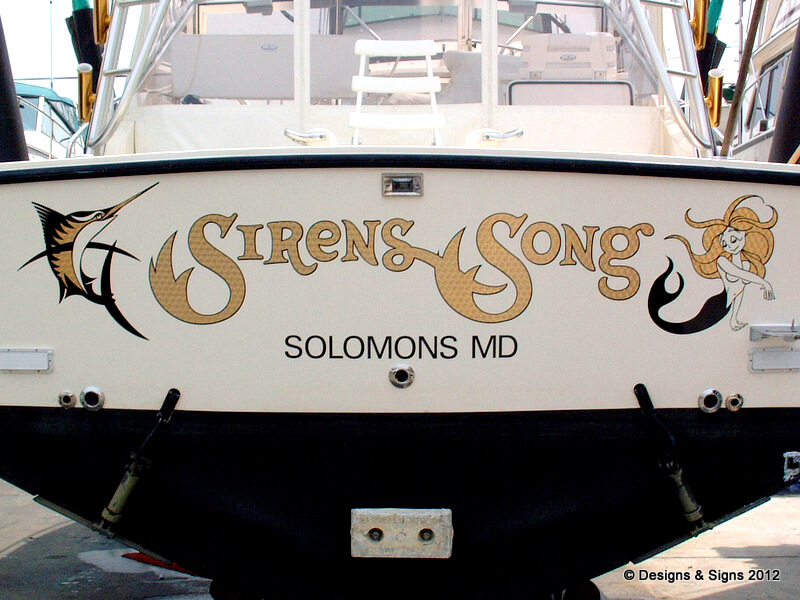 YOUR New BOAT NAME with 23 Karat Gold Leaf!
Wow, here's a gold leaf boat name from the past. I wouldn't recommend using two different graphic elements on your transom but I had to and somehow I made it work. The mermaid and the sailfish actually work well together. They compliment the name well. We used 23 karat engine turn gold leaf film with black outline and custom graphics. Gold leaf film is the best material available for lettering a fiberglass boat transom.
Custom Boat Name Designs
We at Design & Signs provide signage such as this to businesses, neighborhoods, homes and boat names. We can provide custom carted teak quarterboards, custom life rings, and signage for boats. All with our stylized and standardized 23 karat gold leaf paint. This is in addition to our standard shading and outlining for our gold leaf signs. If you're interested in getting your boat name done in our traditional and stylish manner, send us an email or call us to receive a quote.