First, we place the vinyl outline on your boat.
Then, we install the gold leaf on top of the outline. In short, we created this gold leaf boat name for Burr Yachts Sales in Edgewater, Maryland. This photo illustrates the installation process as one layer is placed accurately on top of another layer. First, we put the outline, and we use application fluid to prevent bubbles. Then, the gold leaf follows. A second later, the 23 karat engine turns gold leaf stand out against the black outline. This photo shows the brilliant detailing of the engine turn to gold. The outline helps separate the gold leaf from the white transom; adding the necessary contrast to your gold leaf boat name will enhance its overall appearance.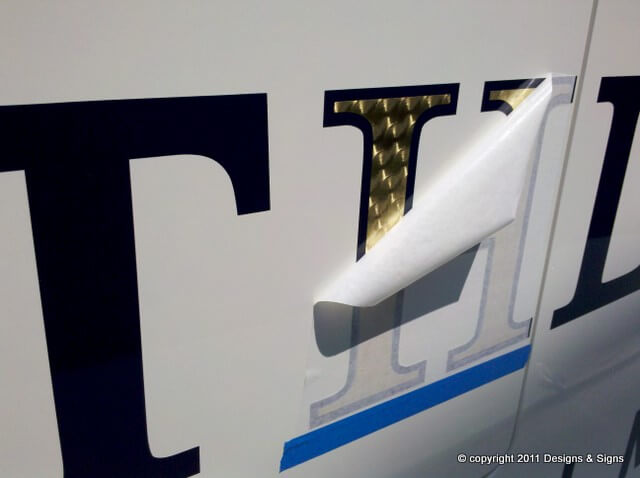 We make teak signs with your gold leaf boat name.
Designs & Signs also offers traditional hand application of gold leaf, which is excellent for restored wooden boats. Still, it is more appropriate for most modern fiberglass hulls to use genuine 23 karat gold leaf film. Designs & Signs is proud to letter every Fleming Yacht outfitted by Burr Yacht Sales here in Maryland. We also made matching custom life rings and hand-carved nautical name boards for Kathleen. Most luxury yachts require rings and quarterboards to match the transom lettering. If you already have a name on your vessel, send us a photo of the name, and we can match it. Creating quarterboards and life rings to complete your cruising experience, it's what we do best here at Designs & Signs. Please allow yourself time enough to review our website. So many great photos of our gold leaf boat names are here for your enjoyment. If you have any questions at all, please feel free to reach out, and we'll do our best to address your needs quickly.