Gold Leaf Boat Name for Regina Marie
The best gold leaf boat name… Are you looking for real gold lettering for your classic wooden boat? We can do that. We'll do a site survey. We'll provide a font portfolio for review and send you scale transom drawings for approval. Installation of real gold leaf lettering by hand requires a full day on site to complete. Give us a call and let us decorate your classic yacht with real gold leaf boat lettering rendered by hand!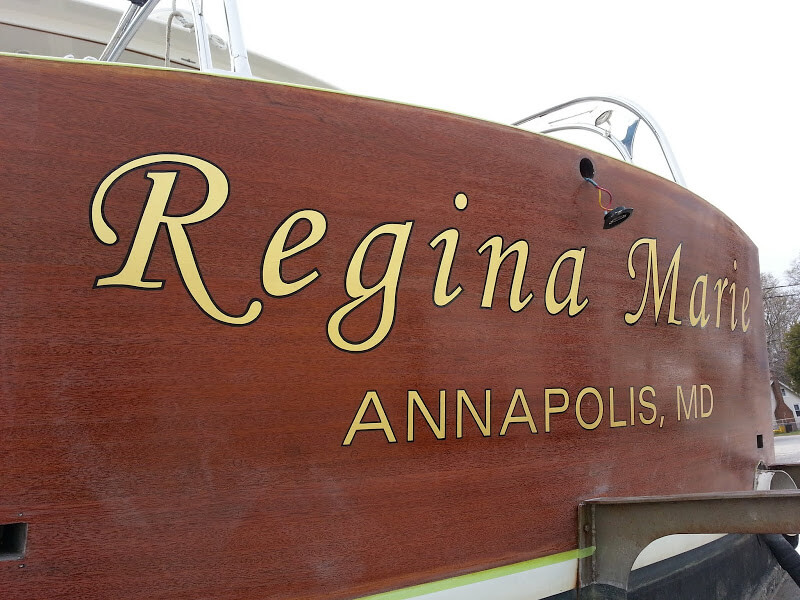 You can't beat hand lettering on a classic wood transom. Simply beautiful, Regina Marie Annapolis, MD. A wood transom with traditional 23 karat gold leaf lettering and hand painted outline. There's nothing better than traditional gold leaf on a wooden yacht. First the transom is sanded and varnished then sanded again. The gold leaf lettering is rendered by hand. Then the gold gets a light clear coat before the outline is painted onto the letters. AFter the name is finished the gold and outline need a couple days to cure. The transom is then finished with multiple coats of varnish. With regular upkeep of the varnish, this beautiful gold leaf boat name will last a lifetime. Please take a moment to review our website. Thank you for your time.
---