Fast cats need fast names.
We made this custom boat name for the Telstar! She's fast. What a lovely ship, so of course, there is no need to put fancy lettering on her hull. Perhaps, a simple italicized sans serif font will do. We think so! Sometimes simple lettering is just what the doctor ordered. A modern one-color font looks great. It is sufficient, and it seems fast too, like a name that does not get in the way of this boat doing what it does best, that is to say, going fast on the water!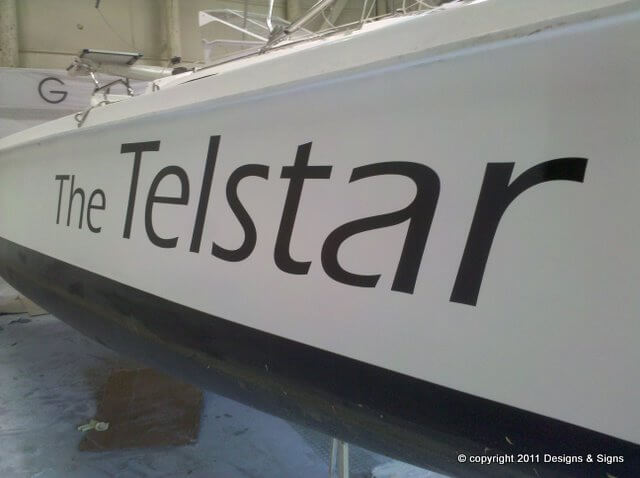 Do you need a Custom Boat Name?
A premium vinyl custom name was installed on a Telstar Trimaran at Performance Cruising in Annapolis, Maryland. Designs & Signs creates the most attractive custom boat letters in the Annapolis area. So when it comes to your next boat, don't settle for less. Make a splash this season. Let us design a great boat name for you! Please take a moment to browse our site. Post photos with interesting facts should help to spark your creative ideas. If you need suggestions or if you have particular questions, we can help. Drop us a message, and we will respond quickly. Likewise, we respond to most phone calls within 24 and often sooner than that.
We make matching QUARTERBOARDS and LIFE RINGS.
We also make hand-carved quarterboards, and personalized life rings with gold leaf lettering too! First of all, we can create everything you need to match your custom boat name. Of course, if you own an ocean-worthy sailboard or cruising powerboat, you'll also need sideboards and ring buoys. Making the best boat names on teak and mahogany and life rings, Whenever you call us you can count on great teak boat names signs and life rings being delivered quickly. That's what we do best. We can also provide you with a vector file of your boat names if you want to have shirts or towels embroidered. In fact, there's no limit to what we can do to outfit your exceptional yacht.