Why is vinyl boat lettering better than painted letters?
A custom sailboat name on Moon Shadow; this ship looks so sharp. But, what is the extra space between the letters and the shading? Sometimes our customers ask for a shadow or outline; we provide a name with a floating shadow which is the right way to design it. This method of separating the shadow from the lettering mimics how we would paint this with a brush. Back in the day, we used to paint every boat name but hand, but now we only offer hand-painted lettering to boat owners who have a traditional wooden boat. For fiberglass hulls, we always prefer to use vinyl. It has no limitations; it lasts much longer than a painted boat name. Also, compared to paint, it is far easier to remove vinyl lettering.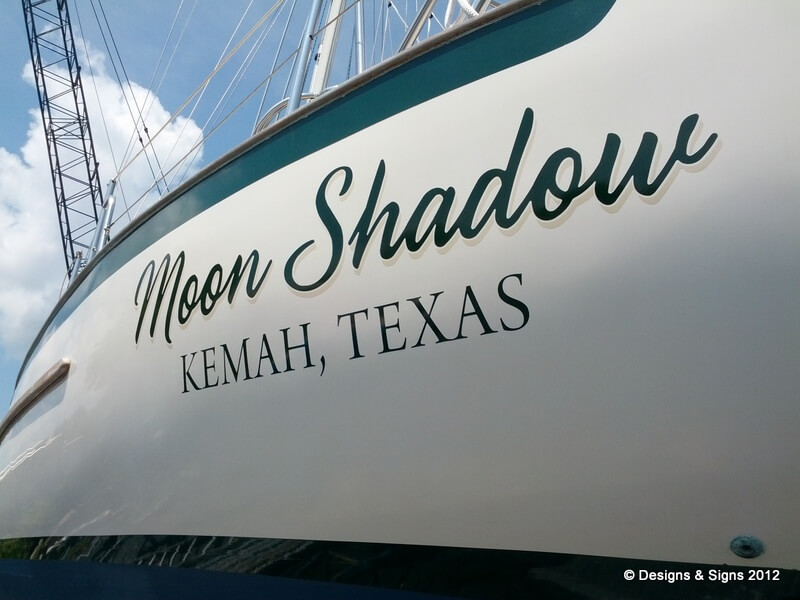 Custom vinyl boat names; we design them, create them, and install them quickly at any marina or home in the Annapolis area. For large yachts, we are willing to travel if needed to apply your new sailboat name. This name incorporates two layers, two different colors of premium cast vinyl, with an outdoor lifetime of 9 years.  When you clean your boat, be sure not to rub over the vinyl name with a wheel or scrub brush. Abrasive cleaning methods and strong detergents will damage the letters. Instead, clean the boat name carefully with a sponge. Of course, your cleaning solution should be well diluted to avoid deteriorating the adhesive seal along the edge of the boat name letters. Don't hesitate to contact us for a quote if you have a boat in the area that needs a custom vinyl name! Thank you.