Gold leaf radiates!
Naturally, a carved sign always looks great on any brick or stone wall. It provided a lovely combination of depth and textures that captured our attention. Similarly, the gold leaf letters appear to jump off of the surface of the sign face. In like manner, the wood grain background frames the gold leaf letters, allowing them to radiate in the sun truly. Recently, we carved this neighborhood community entrance sign for Loch Haven, a waterfront community in Edgewater, Maryland. The copy, inline and nautical scenery, we customize and cut all of it by hand. If my memory serves me well, we sandblasted this particular sign face. Designs & Signs has manufactured and installed many gilded community entrance signs in Maryland, Virginia, and Washington, DC.
We make nautical theme entrance signs.
The best part of this sign is the nautical sailboat in the middle. Wind, waves, clouds, and birds offer a glimpse into what we desire in any waterfront community, that is, of course, access to water. In Annapolis, we all love sailing, cruising, fishing, and hunting. For sure, these marine activities can all lend fantastic imagery to any waterfront community sign. Beautiful Maritime Scenery offers us a feeling of freedom, with a ship headed downwind! Another great day on the water, indeed.
NB: We did not create the current sign at Loch Haven. Another company made the new sign without our permission, and it does have gold leaf on it as this one did.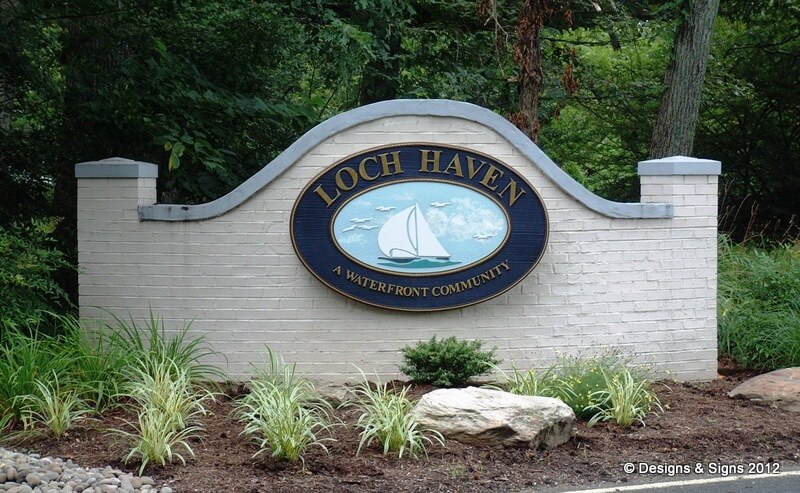 Take your time. Please send us an email!
Perhaps, you need a new dimensional sign for your waterfront community? Whenever I drive around town, I see many local communities that need a new entrance sign. Chances are your community has an aging sign, or some signs, unfortunately, look dated even if they aren't old. A poor choice of fonts and materials can make your entrance sign look old, awkward, and out of place. Of course, if any of this sounds familiar to you, then it's time for a new sign. Please send us an email or call, and we'll be happy to help you out quickly with a quote. Also, we will gladly respond to any particular questions you have about our products and services.