What is a reverse surface vinyl installation?
We installed etchlook vinyl at Weitzman Advertising on Church Circle in Historic Annapolis. First, we make white vinyl and Etchlook for the interior surface of the plexiglass. Installing the lettering inside the glass will help it to last a bit longer outdoors. The acrylic or plexiglass looks black, but it's not. Actually we mount it in front of a flat black PVC panel. The black panels creates more dimension to show off the reverse surface vinyl lettering.
On a side note, we refer to PVC by its brand name often, which is Komacel. Likewise, Plexiglass is specifically a brand name for clear acrylic.
We pin-mount exterior signs and letters
We stain the wooden frame and coat it with clear urethane. The frame attaches to the face of the building with threaded pins and a few dabs of clear silicone to hold the pins better. Over the years, Weitzman Advertising has conjured up some great ways to show off their logos, and of course, at their main office, they've done a fantastic job of making this entrance look shipshape. Best vinyl lettering on the street if you ask us!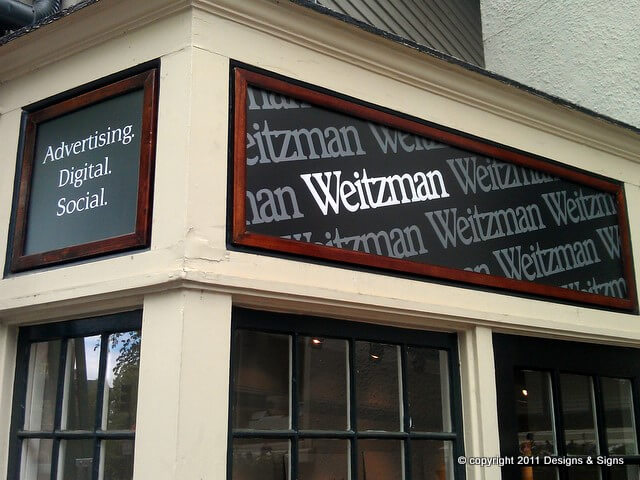 What are vinyl letters?
The vinyl lettering is an adhesive application cut from durable vinyl material, and it holds well to flat surfaces. It's a great solution for vehicles, panels, windows, glass doors, and even boat names for fiberglass sailboats and powerboats. We even use vinyl to put custom vinyl lettering onto life rings.
If you desire great vinyl lettering for your boat, truck or shop window, give us a call we would love to help you out!
Please see more photos of vinyl lettering.