How do you make a classy door logo?
For example, below are some great photos of etched door lettering. Etched door logos make your glass doors look classy. Unfortunately, there are no good natural alternatives to this product. Sandblasting and acid etching are possible but only in our shop. You would have to deliver your door to us, and then we wouldn't want to do the job because of the risk involved. One little mistake, and your door is ruined. We certainly don't want that to happen.
Does dusted crystal film look like etched glass?
Of course, it does, or we wouldn't consider using it. Etched door lettering fills this product gap nicely. Truthfully it allows us to offer something to our customers which we would not otherwise be able to. At this office location, we also installed a large dimensional letter you can view by CLICKING HERE! Please take a moment to review our site. We have posted many photos of our vinyl logos and custom vinyl lettering. We also offer many high-end commercial signs and products, dimensional letters, carved signs.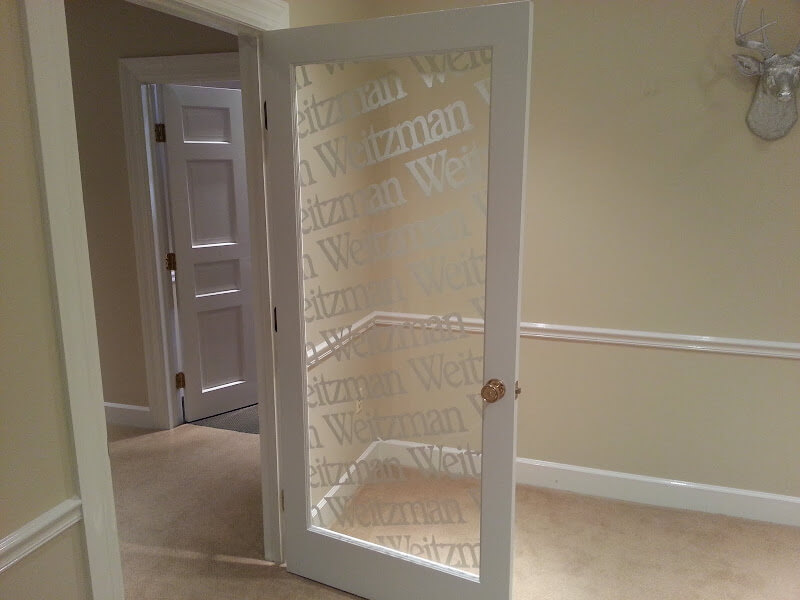 What is Etched Door Lettering?
Etched look vinyl provides the appearance of real etching on glass without the expense. Traditional glass etching typically requires the use of cream or acid. This process can be stressful and unforgiving if mistakes are made. Etched look vinyl is a great alternative and much more practical. Additionally, the vinyl is available in more than one option.
Etched Door Lettering, vinyl logos are classy.
Gold leaf looks great on any door, but sometimes there is a need for a more conservative and cost-effective material. So we offer etched door lettering instead. Often, customers will ask us if we can etch a logo into a glass entrance door at their office. Of course, we can, but the time, equipment, clean up and risk involved are prohibitive. In addition, traditional etching methods won't work on-site. However, etched vinyl logos offer us a great way to get that job done at a reasonable price.
If you need a quote, be sure to get in touch with us at your convenience. We look forward to hearing from you.