How do you make big dimensional letters?
By far, this is a substantial dimensional letter, the biggest that we have ever installed. Of course, the size of the letters presented us with many obstacles during the process. First, we had to find a suitable piece of material. Second, it had to be large enough to accommodate this giant dimensional logo. I believe we were able to use quarter-inch plexiglass because it's available in roll stock, big enough to make this letter but still affordable. A CNC routing machine produces the letter, and then it is delivered by truck to our shop for finishing. We clean the edges of the letter, and then we paint it with Rustoleum. Black is a standard color. However, if you need custom Pantone colors for your logos, that's not a problem. We can order custom color cans of spray paint for your office logo project.
We'll transport your letters carefully.
After painting the letter, we apply our water-based matte clear coat. This clear coat makes the letter look perfect. It blends the surface color and completely hides any minor imperfections. So now that we have a perfect painted giant letter, this leads us to our next problem. How do we transport a letter like this to the job site without damaging it? Any tiny scratch on the face of this letter would completely ruin it. In the end, we had to wrap the entire letter with a soft cloth, and then we strapped it onto a 4×8 sheet of MDO. It was tough to carry the letter into the building and even up the stairs without damaging the letter, but somehow we pulled it off. I'm not sure we would pursue an installation such as this again, as there are just too many things that can go wrong!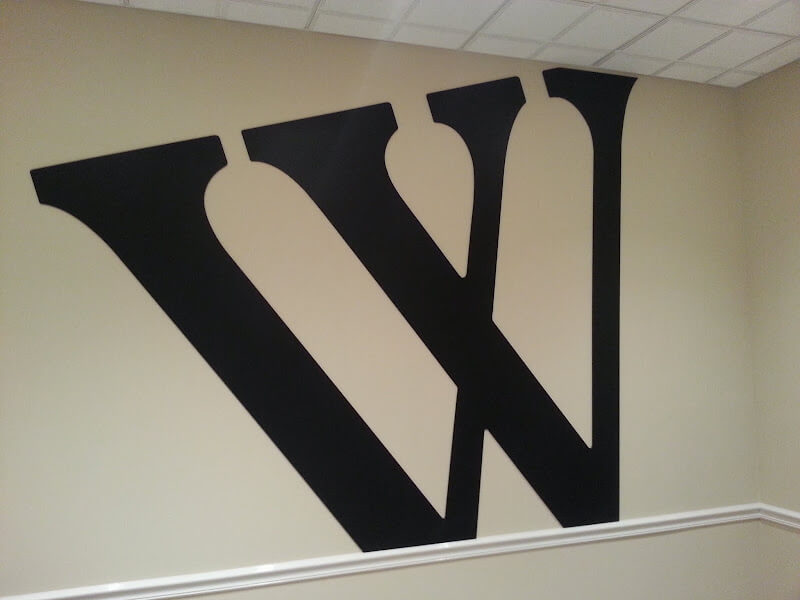 Please don't wait to contact us for a quote.
In summary, we manufactured this Large dimensional letter for Weitzman Agency at their new office, Sixteen North Washington Street in Easton, Maryland. This painted plexiglass letter is 74 inches tall! Designs & Signs also created and installed custom etchlook vinyl logos for their office entrance door.
If you desire the best new 3D logos for your office, waiting room, or lobby, please don't hesitate to call or send us a message by email. We are glad to help!