Install Acrylic letters inside & PVC letters outside.
Custom cut acrylic letters would be an appropriate sign for any medical office. Your patients will appreciate the professional appeal that only 3D acrylic letters can provide. Please note that we office acrylic letters for interior installations only. Acrylic is a great product.
Achieving detail with custom cut acrylic letters.
For sure, with laser cutting available, we can achieve accurate corners and more excellent details without much rounding off. However, when we install letters outdoors, we always use PVC instead because it will not crack with pins in the back of the letters. Similarly, acrylic can become brittle outdoors, and cracking will occur around the pins in the back of each letter. PVC is pliable so it will not break when it contracts around the threaded installation pins.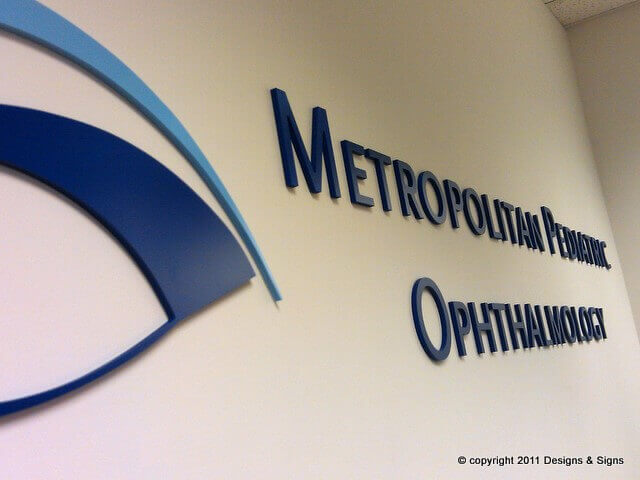 3D letters; brass, bronze, and steel are available.
Dimensional Letters by Designs & Signs; we installed these attractive letters at Metropolitan Pediatric Ophthalmology in Bowie, Maryland. Letters and logo; Our fabricators make these from acrylic, laser-cut acrylic letters to be more precise.  However, we also make custom 3D letters with many different materials. Likewise, we create memorable logos and lettering for offices and building facades using steel, bronze, brass, aluminum, PVC, and acrylic. Certainly, Proper marking the rooms and entrances at your business is necessary. Unfortunately, without a proper office wall logo, your customers might feel lost or uninvited. For example, big pin-mounted 3D letters on the front of your building announce to the public that you are open. So it follows that any good exterior lettering will visually invite patrons into your building. In short, Designs & Signs can create dimensional letters from any material with any custom color or metallic finish.
https://twitter.com/DesignsandSigns