Custom truck door lettering; at Designs & Signs, we prepared and installed this great logo. Our friends at Exterior Concepts appreciate the effort. They did come up with an excellent and straightforward layout. It's a great logo, and we enjoyed decorating their new vehicles. A Two-color premium vinyl logo for Exterior Concepts is just what the doctor ordered. The color scheme is fantastic. It sets their company apart from the competition. Please to the eye for sure, and this logo will attract new customers when your vehicle is on the road. A contemporary, attractive logo is so essential in today's competitive world.  Premium vinyl graphics are a cost-effective way to increase exposure for your business. Don't hesitate to get in touch with us for a free quote! We would love to install your new truck door lettering.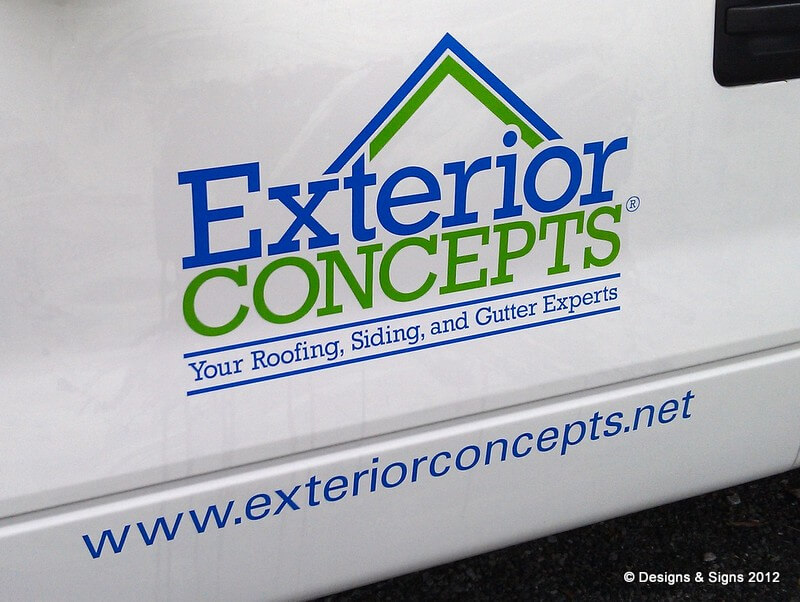 Lettering for a box truck too.
We also letter vans and box trucks, and even smaller sales vehicles. There is not vehicle lettering job that is too big or too small for our shop. Over the years, we have served many local businesses, providing professional fleet marking services for large landscaping companies like Homestead Gardens and Complete Landscaping. If you have a logo, please send it our way by email. A photo of your vehicle would be helpful too. Provide a little information about what exactly you would want us to put on your truck, and we'll give you a quick quote.
Generally, we can turn vehicles around rather quickly, within one day. So please drop off your truck in the morning and pick it up later that same day. Maybe if it's a couple of small logos just on the doors, you can wait while we install them, and you'll be back on the road quickly. Please take a moment to peruse the many great photos on this site. We know you will enjoy the quality of our work!