First, send your vector logo to us.
Below you will see an excellent example of vinyl vehicle graphics on the door of a truck. We can design your logo and install it quickly at our shop. First, you should stop by so we can take photos and measurements of your vehicle. If you already have a logo, please send it to us. If you hired a professional designer, you should request a vector version of the logo. A vector file is what we use to run the vinyl cutter. In effect, we can increase the size of your logo as needed. A vector logo does not lose its detail when it's enlarged, unlike raster images, with your logo and our photos.
Installing your vehicle graphics quickly.
We can send you a mockup to show what you want the lettering to look like before installing it. Once you have approved the drawing, you may stop by our shop for the installation. A van might take us 3 or 4 hours to finish, while two truck doors might only take one hour to install. It all depends on the size of the vehicle and the complexity of your logo and lettering. Often we ask our customer to drop off a vehicle in the moring and then it should be ready for pick up by early afternoon. If it's going to be a quick installation you can wait at our shop while we do the work.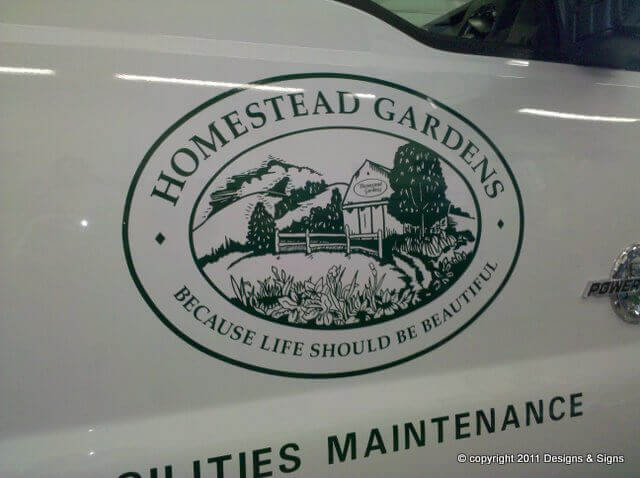 About Homestead Gardens
Boasting the Mid-Atlantic region's largest selection of high-quality plants, Homestead Gardens was founded in 1973 by Don Riddle Jr. Homestead Gardens' original location is in Davidsonville, MD , and consists of 240,000 sq. ft. of retail space. It is well known in the area for its annual events, including the Fall Festival, holiday lights display, and more.
In 2010, a second location was opened in Severna Park, MD, consisting of 35,000 sq. ft. of retail space. Most recently, Homestead Gardens opened a third location in Smyrna, DE , in February 2021. The Delaware location was formerly Ronny's World, an iconic garden center in Smyrna. Homestead Gardens will continue Ronny's World's tradition of contributing to the local economy and giving back to the community. No matter which Homestead Gardens location you choose to visit, you'll find the area's best selection of annuals, perennials, shrubs, trees, and more!
To learn more about Homestead Gardens, please visit the link below.