Glass Gilding from 30 years ago; It does last forever! The process is tedious. A reasonably sized logo like this takes a full day on-site to finish. There is a lot of drying time involved between each layer of paint and gold leaf. Rushing the process is not possible. We do use a heat gun to speed up the drying process sometimes. The drying time can be slow on a cold, wet day, and the heat gun does help a bit in that situation.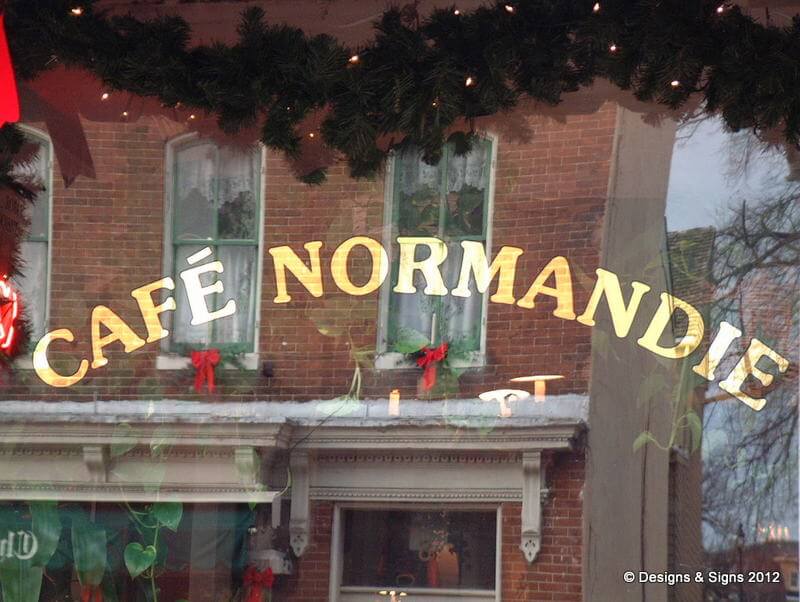 Eye Catching Glass Gilding!
Glass gilding at Cafe Normandie, in the historic district of Annapolis, Maryland. Designs & Signs specializes in glass gilding and offers a wide variety of gold leaf signs and services. We have forty years of professional glass gilding experience. This installation has been looking good for thirty years! First, we attached loose leaf gold to the glass.  This complicated process takes time. During any part of the procedure, if we rush, then it's easy to make a mistake. There is no good way to "fix" gold leaf on glass. Thankfully, our experienced artists do not make mistakes. We protect the gold leaf with black backup paint. Outline and shadows make the gold leaf great; we can apply those before or after the gold leaf. Techniques have changed somewhat in recent years. We now apply our outlines and shadows first because it saves us a little time to do it that way. Finally, we use a stiff bristle brush to eradicate the excess gold, and voila! Our gold leaf installations look perfect every time.
If you want gold leaf but need to save some money, we also offer gold leaf film that looks great too and costs less. For example, we used gold leaf film at Colony Club in Washington, DC. Follow that link and take a look!
About Cafe Normandie
Cafe Normandie has been open for more than 30 years and offers French Country Cuisine with Maryland Seafood Specialties. The typical French cuisine is created and prepared by Award Winning Chef Jean-Louis.
Source: YouTube
To find out more, click the link below!