A dimensional logo and dimensional lettering were made for Joe Gruendl at Jag Accounting in Annapolis, Maryland. So, if you're in Annapolis and looking for a great accountant, call JAG Accounting. Joe is a lifelong family friend and one of the nicest guys we know. His accounting service really is the best!
We routed these letters and flag shape. PVC holds up well for long-term use , and it is easy to paint. Krylon and Rustoleum offer many great colors, and those paints are also well suited for use on plastic. In some cases, we use a matte clear coat over the paint because it creates a more uniform look to the lettering. A printed flag covers the rectangular piece of PVC (Komacel), and again, we applied a matte protective clear boat because it looks so good.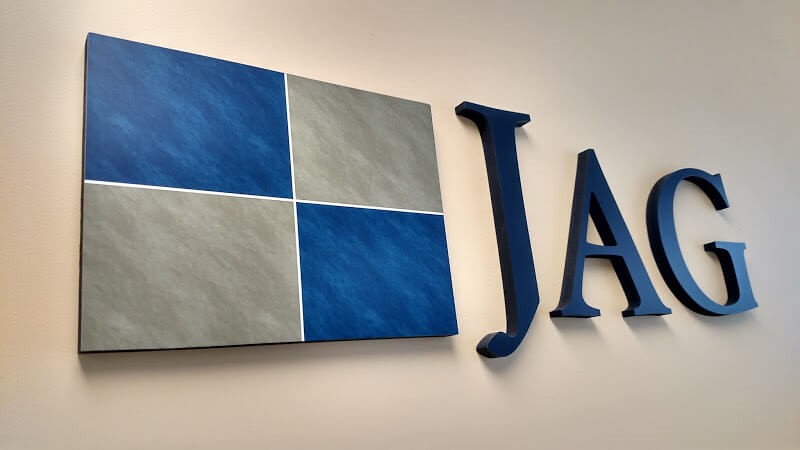 Please visit the JAG Accounting website. They provide the best service around!
---
We also make dimensional lettering with steel and aluminum.
We installed Metal Letters at Scarborough Management in Annapolis.
---
Making letters with different materials.
Aluminum, steel, acrylic, and PVC are typical materials for three-dimensional letters. Letters come in a variety of styles and finishes. Painted and metallic finishes are popular.
You can rest assured that whatever the material you choose, you will receive the best craftsmanship when you request custom dimensional signs and logos.
Our team typically recommends using PVC lettering with a painted face or brushed metallic face for dimensional letters. We mount letters and logos inside with double-sided, permanent installation tape. For exterior use, we utilize stainless steel pins.