We always choose the best teak, regarding the grain and color of the wood. However, we also provide Mahogany boards at a lower price point. Whenever we make boards, we are sure to finish them with 23 karat gold leaf. A painted black outline offers additional contrast for your gold leaf lettering. Of course, we offer other colors and metal leaf products are. Sometimes we use palladium leaf too!
Custom Boat Quarterboards Hand Made!
The photo below shows off some of the incredible detail of our work. The tiny imperfections in the hand-carved surface are beneficial to the overall look of these boards. The gold leaf shimmers as it reflects the light from many different angles all at once.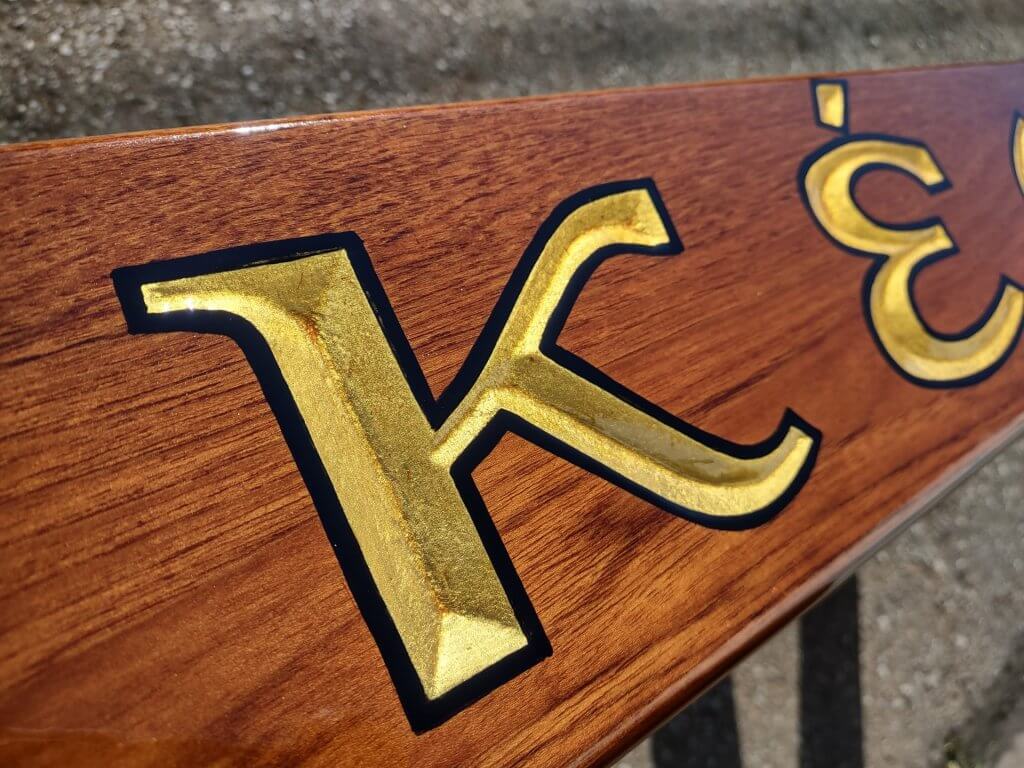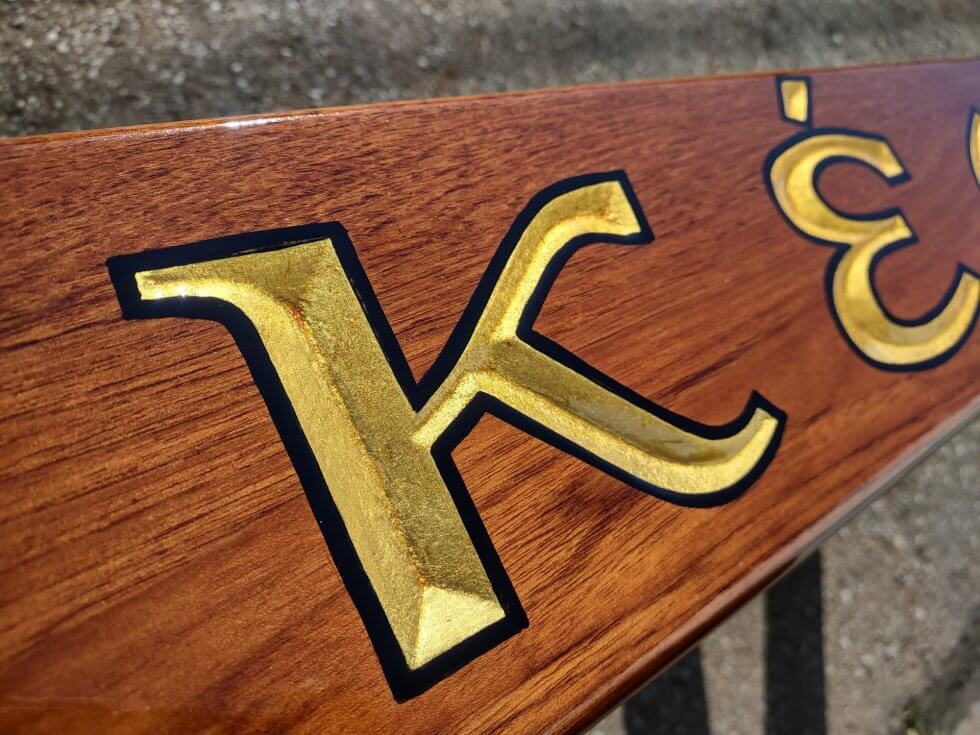 Collectors adorned their homes and businesses.
Carved wooden quarterboards are a traditional art form. In ages past, locals would salvage good wood planks from beaches to create boards for their vessels of various purposes and need. These original hand-carved nameplates were affixed securely to wooden ships, as required by maritime law. They were designed to help distinguish seafaring pirates from naval vesselsand made them easy to identify while underway. Over the centuries, these signs have become ubiquitous in coastal communities, as collectors adorned their homes and businesses with them. Ultimately these beautiful boards became a living memorial to the countless sailors and sailing ships that perished at seaand the shipping and fishing industries, essential to all maritime communities.
Proud Maritime Sign Making Traditions!
At Designs & Signs, we are proud to continue the timeless traditions of hand carving and gilding for all types of nautical signage. We hand-craft all Quarterboards from hand-selected teak or mahogany. In total, all boards require about ten coats of spar varnish, One Shot lettering enamel, and 23 karat gold leaf. With proper care of the top clear coats, your boards will last a lifetime. Sand the boards lightly every year or two to enhance their beauty. Always use spar varnish or spar urethane. Your clear coast must be oil-based.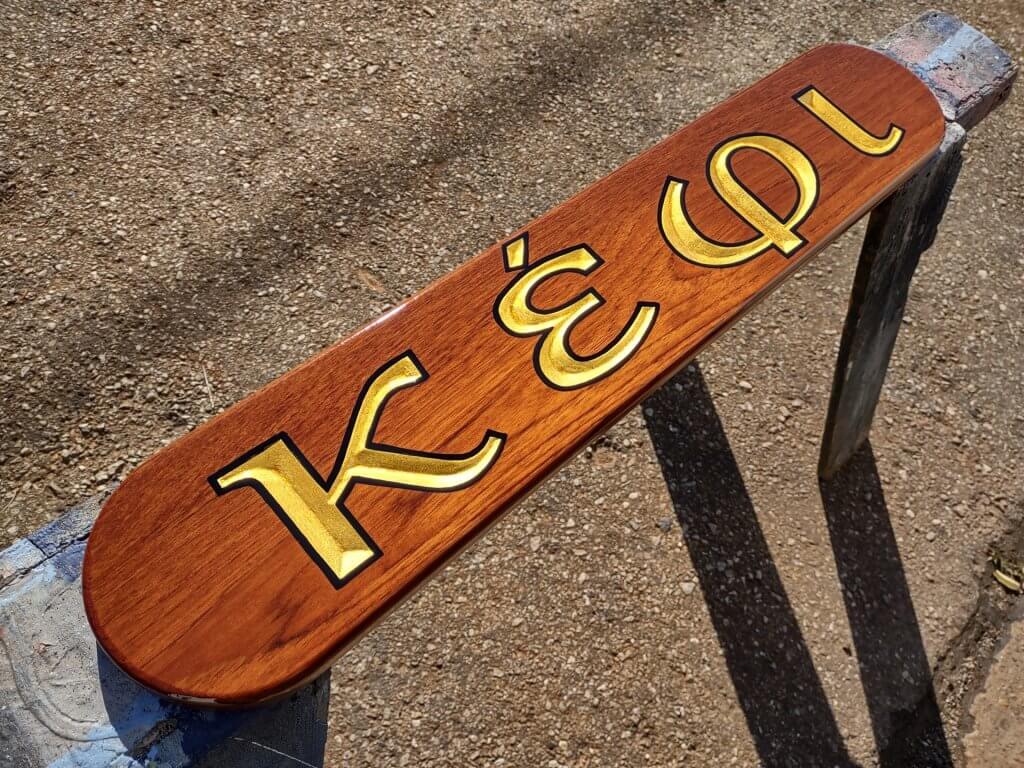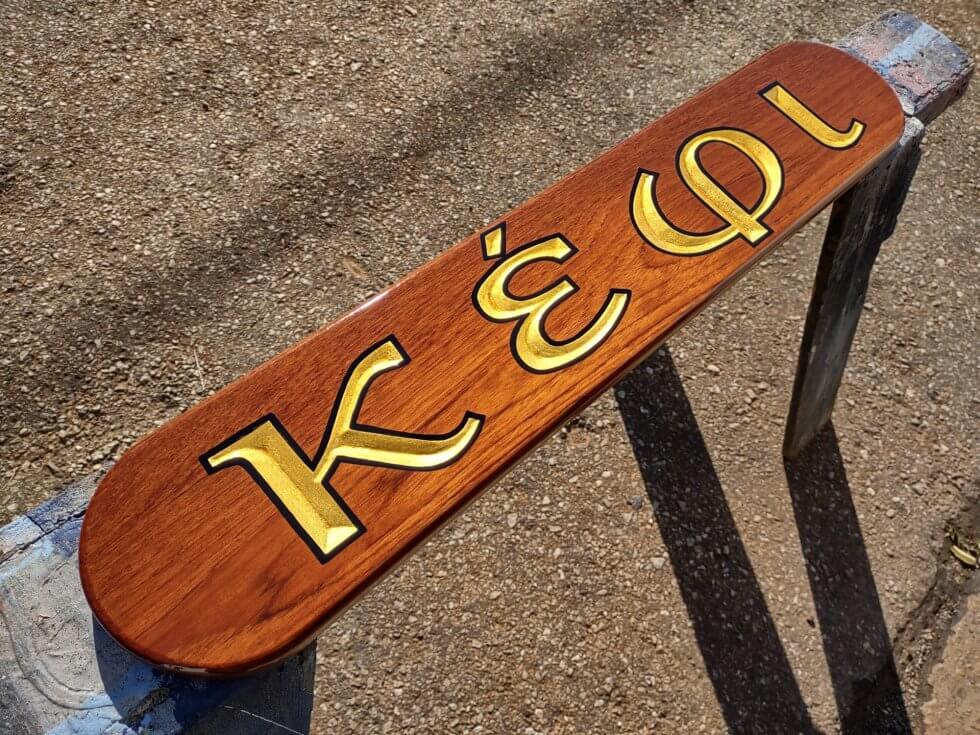 This quarterboard displays a Greek word. However, I have forgotten the meaning of this word, but it sure does look great! Boat names are always unique, as they should be, and of some personal value to the owner.
We only made one board for this vessel. The intention was to install it on the transom of the boat. Often, we manufacture two matching boards. However, many captains prefer to place one panel on each side of the ship.
Contact us for custom boat quarterboards!