4×8 Leasing Signs get noticed!
Leasing Signs are the best way to advertise on the street. A 4×8 stands tall on a crowded street. Potential renters and local business owners will notice a handsome sign. This sign will signal to them that you offer the best professional services. Likewise, a great real estate sign will convey necessary information, but more importantly, a great layout will serve a higher purpose. It would be best if you convinced your prospect at first glance that you are professional and trustworthy. A tremendous classy leasing sign or real estate sale sign will do just that.
Can we make a logo for you?
First, you'll need a great logo. If you don't have one, we can design it for you. When you request a layout for leasing signs, we suggest a simple color scheme and conservative font selection—bold shapes with color and possible basic patterns to trim and frame various elements on the sign face.
We protect printed signs with a UV clear coat.
Finally, we offer all of our signs with the best materials. You can expect ten years of service from any of our alumalite signs. We used to use cut premium vinyl, but lately, we have switched to premium print media with an eight-year outdoor lifespan. In addition, we increase the usage time with a matte UV clear coat. Our clear coat adds years of life to your panel signs and extends the brilliance of the printed colors well past the eight-year mark.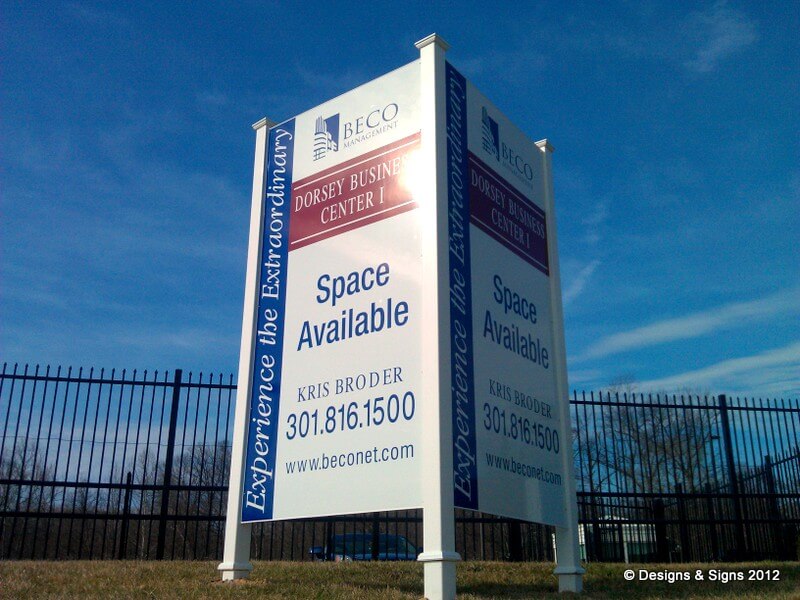 Please send us a message at your convenience.
These attractive v-shape signs are sure to catch your attention. We use only the best materials, ensuring that our signs will look good for many years to come, withstanding harsh outdoor exposure. Don't hesitate to get in touch with us for a quote. Thank you!