Why is alumalite so strong?
4×8 Real Estate Signs or Alumalite signs (v-shape signs) designed, fabricated, and installed by Designs & Signs. Alumalite panels with premium vinyl lettering and decorative exterior posts. The backside of each panel is secured with a lightweight painted wood frame, assembled with stainless steel brackets and stainless screws. These signs hold up well to extreme outdoor exposure, but why are they so sturdy? These sign panels will not delaminate, warp, or fade, even in extreme weather conditions.
How long does vinyl lettering last outdoors.
Many sign shops might stick you with inferior vinyl. We only use cast vinyl from Avery. This way we never have to worry about what type of materials we are using in our shop. We only stock products which are rated for maximum outdoor use. The lettering on our 4×8 Real Estate Signs has an outdoor life of 8 years or more. If you need alumalite signs to advertise your real estate, please get in touch with us for a quote. We make great 4×8 Real Estate Signs.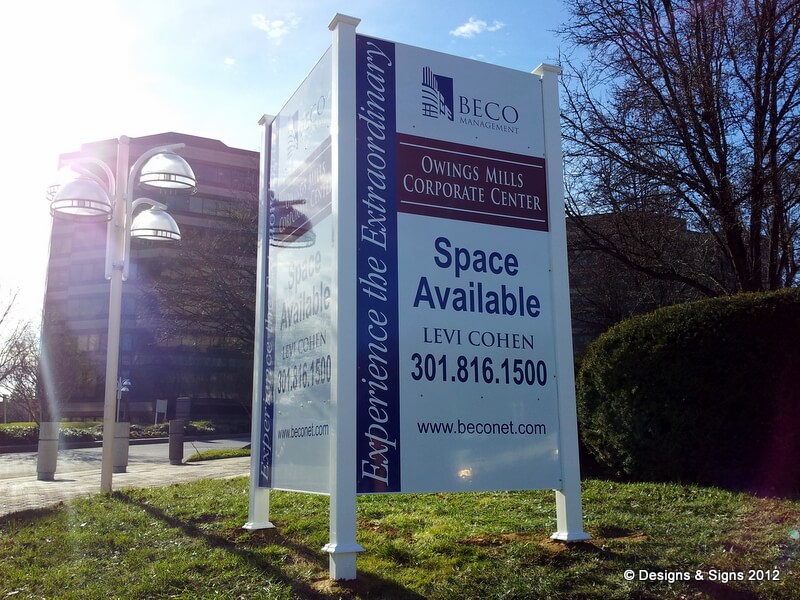 4×8 Real Estate Signs for any use.
Mostly, we make alumalite signs for office parks and real estate sales. Property sale and lease is a huge industry, and we cater to both agents and managers in Annapolis, Baltimore, and DC. However, alumalite and Dibond on versatile materials, and these signs can be well suited for businesses who are looking for professional exposure without the high price tag. As you can see, any alumalite sign with a handsome logo can do the job. Put it roadside at the entrance of your yard, and surely your customers will know where to go, and you'll gain exposure to other pedestrians too.