A printed Dibond sign looks sharp on the exterior wall of the Day Building in Annapolis, Maryland. First, The sign is attached to the wall with plugs, and we can remove this sign and reface it as needed without damaging the wall. Designs & Signs uses Dibond and alumalite to create many real estate signs. We produce the vinyl face of the sign with a large format eco-solvent Roland printer. The media is flexible and has adhesive on the back. We apply these printed panels over top of many different types of aluminum sign faces. Felt squeegees and application fluid prevent folds and bubbles, which can ruin the smooth look of a well-made printed sign. Furthermore, a coating of matte UV preventative clear enhances the appearance and allows the sign to last longer in extreme sunlight and other deteriorating weather conditions.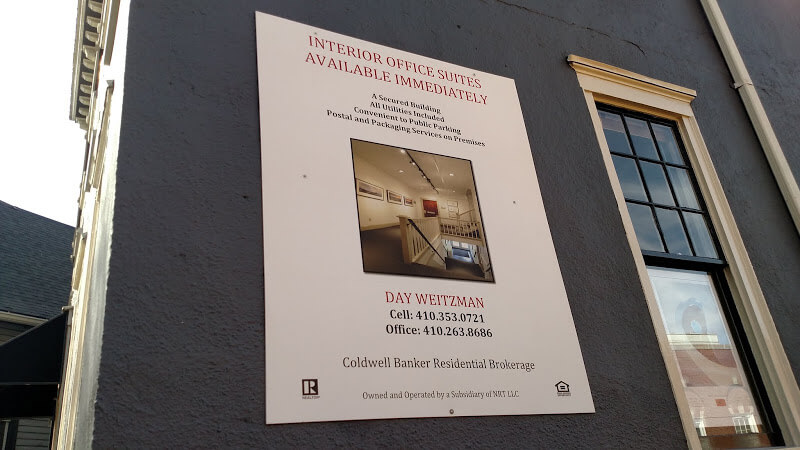 Learn about printed Dibond sign uses
A printed Dibond sign is an excellent choice for any temporary sign needs. However, don't be fooled by its low cost, Dibond signs will last ten years outdoors, and we only use the best print media and cast vinyl. Our premium types of vinyl and print media offer eight years of outdoor use. Furthermore, the addition of protective clear coats extends the lifetime of both the print and substrate. Consequently, Dibond printed signs are very useful for permanent installations where specifications require a low-cost, high-exposure material. Permanent installations would include parking garage signage and other outdoor areas where a simple aluminum sign is insufficient. Dibond is rigid and holds its form over rough walls. Typical aluminum signs might deform if we anchor them tightly to cinderblock or brick. In contrast, Dibond will stay flat and smooth, providing a more permanent and professional look.