We make the most handsome carved boat signs. Making quarterboards by hand is our specialty, and we do it the old-fashioned way. Sign carving and gilding never change. We use techniques that marine artists developed centuries ago. Gold leaf finishes adorn the lettering of all our nautical name boards and other boat signs. We can even put gold leaf onto your life ring and make the ring to match your transom name and sideboards. There's nothing we can't do to make your yacht look sharp on the water! Many yacht owners already have a name on the transom, but they need matching boards or life rings. We can do that. Just send us a photo of your transom to confirm the font match before you place the order. Please note that we do not provide drawings until you process the payment on the order.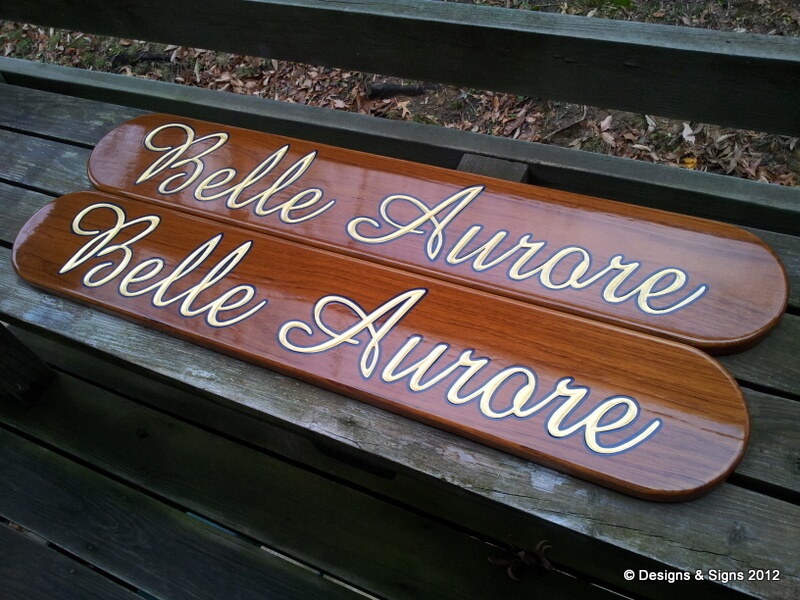 We ship carved boat signs anywhere.
Quarterboards for Belle Aurore. Hand-carved teak quarterboards with 23 karat gold leaf letters and a hand-painted outline. These beautiful hand-carved quarterboards will match your boat name, and we can ship directly to you anywhere in the USA. Sometimes if pricing is reasonable, we can send our boards overseas. If you are interested in purchasing quarterboards for your yacht, please call us or contact us by email for a quote.
What's a good name for your boat?

Many people feel pressured to name their boat the day they buy it when, in fact, they should take the time to become acquainted with it first before deciding on one. Boats, like people, often seem to have a distinct personality. Therefore, it may take you several weeks, months, or even the entire season to come up with the perfect name for your beloved ship. So have fun and allow your boat name to come to you; it will!