We use Gold leaf on Neighborhood Plaque Signs.
Neighborhood Plaque Signs for Cross Point in Dunkirk, Maryland. These cast plaques turned out so well. Likewise, the gold leaf letters do catch your eye. Anyone driving past this community will have no trouble finding the entrance. People driving past your neighborhood can read big letters with gold leaf well from a reasonable distance.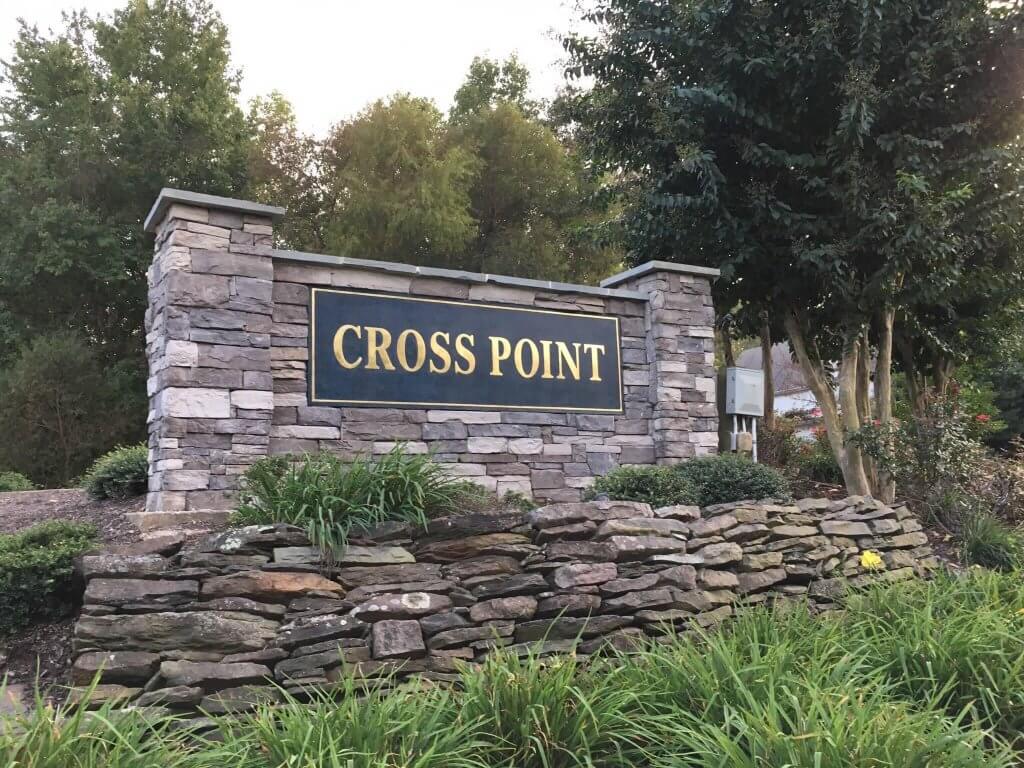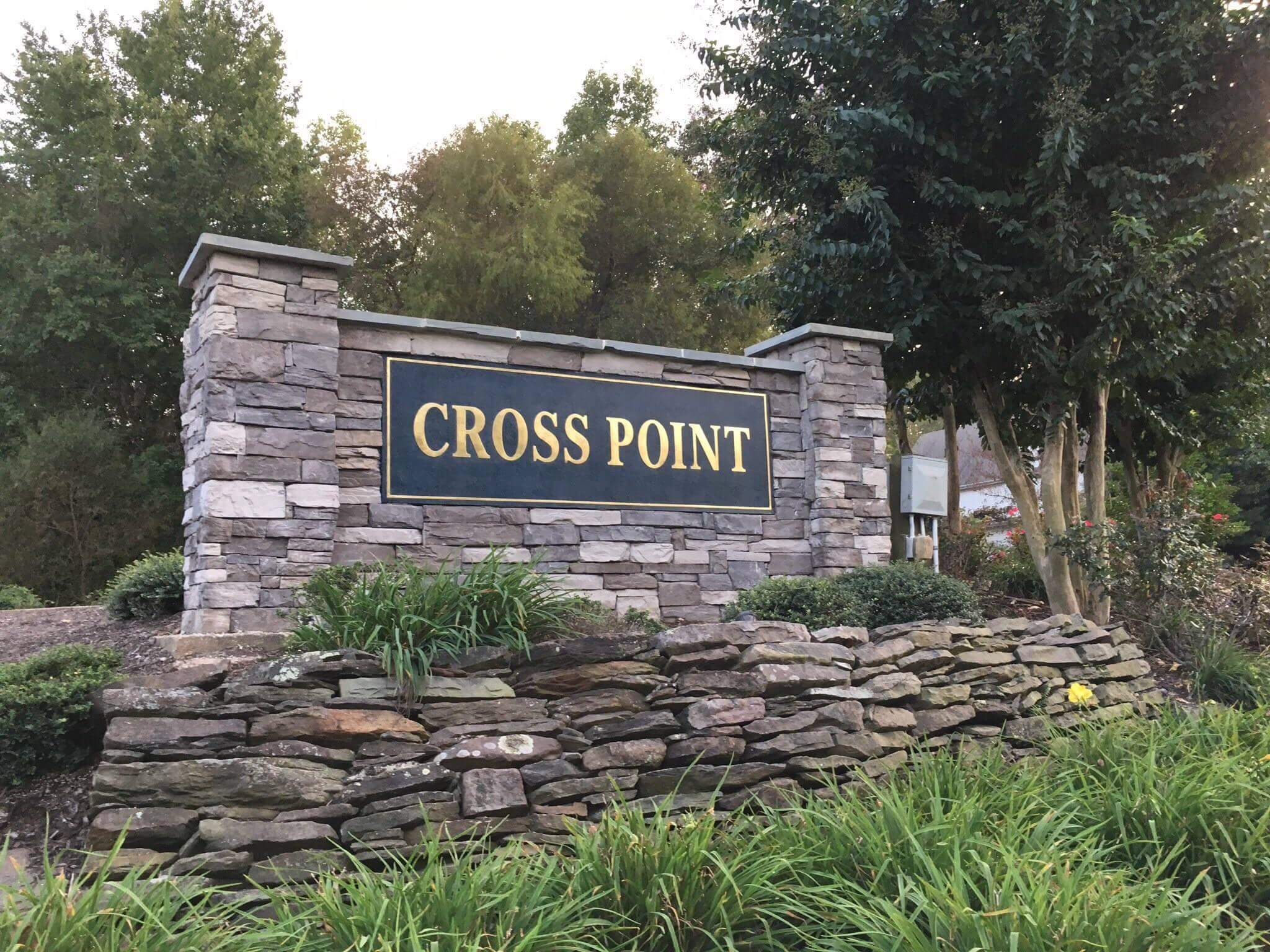 We can remove old signs.
First, we removed the old signs and bracketsand the stone veneer and caps from  the cinderblock posts. Next, our friends built a new cinderblock wall between the posts. We are in the process of applying gold leaf to the new faces. One of the signs is double-sided to install one plaque on each side of the new wall. The other sign is single-sided.
Heavy-duty cast plaques last.
The new faces are heavy-duty cast aluminum with a leatherette background. You can see the dark navy blue finish on each plaque, with a protective acrylic clear coat. Next week we will be gilding the raised letters and trim on all three of the new faces. We will deliver and install the new signs on the cinderblock walls as soon as we are finished.
In the near future, we intend to pin mount the plaques to the walls. First, We use a paper pattern to drill our installation holes accurately into the cinderblock wall. Whenever we drill installation holes, we try to make them as small as possible, which means that the pins will fit tightly into the holes. Certainly, any additional adhesive will not be necessary.
Gilding in the Shop.
Our vendor delivered the new cast aluminum signs yesterday. After they finish painting the plaques, they cover the entire plaque with a laquer-based clear coat for added protection. Next, we lightly sanded the letters to prepare the surface for size. In the photos below, you can see the color of the raw aluminum. Soon, we will finish the aluminum with gold leaf.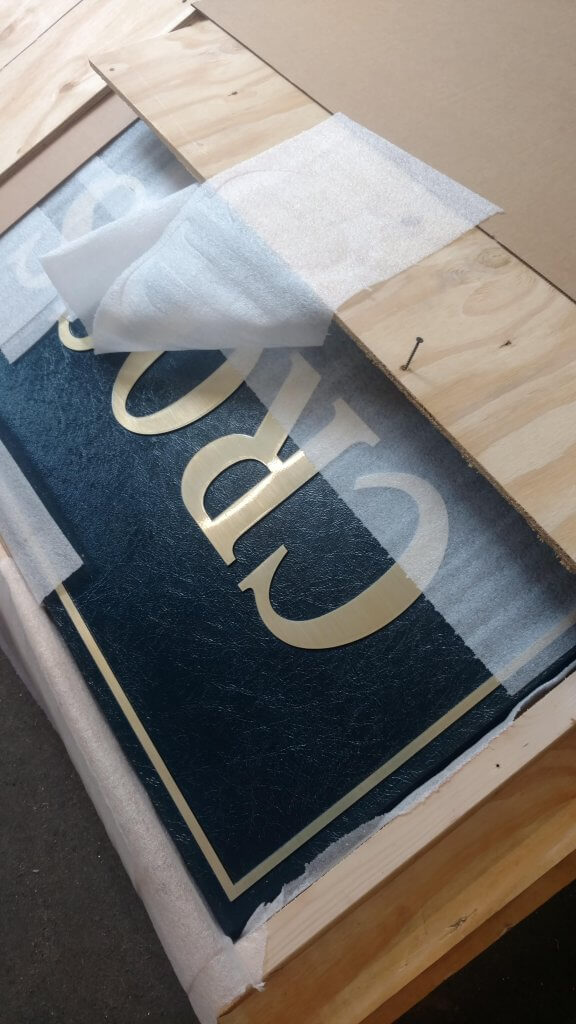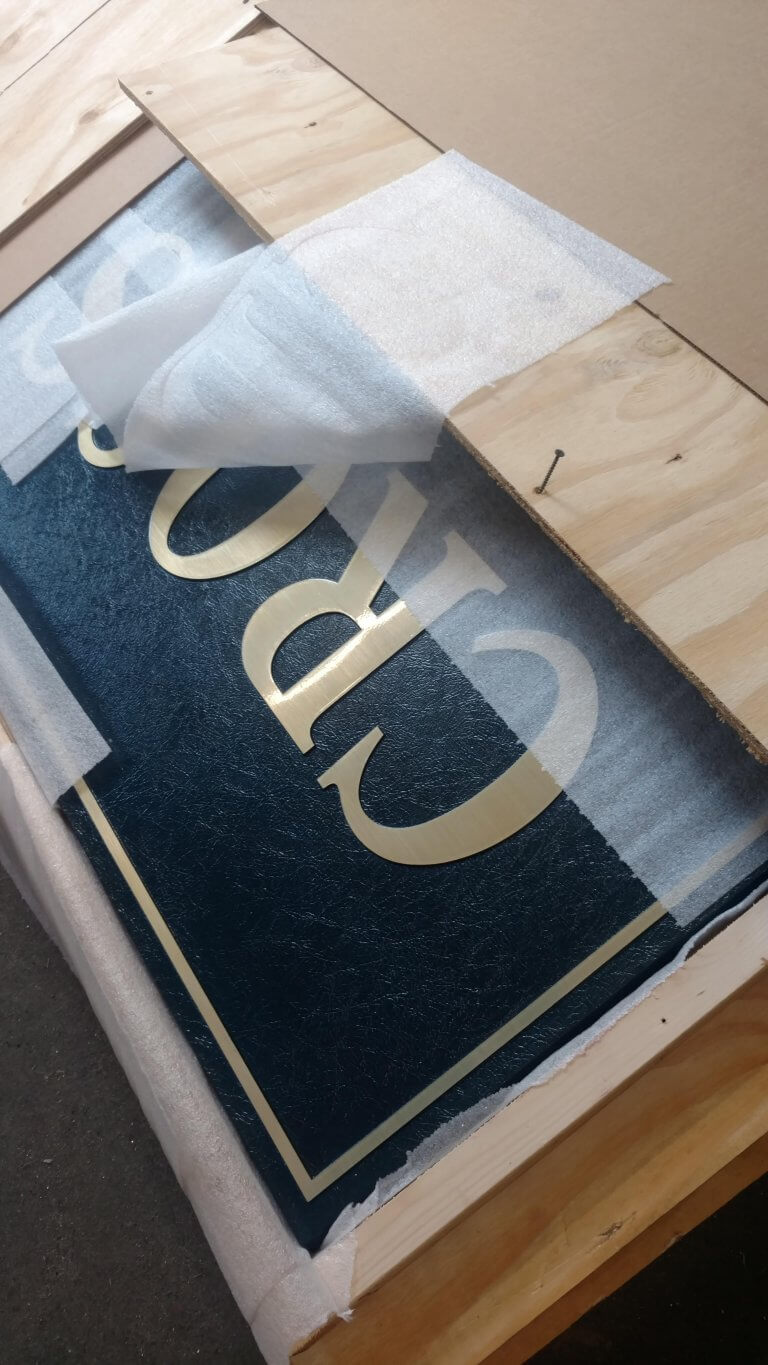 Talcum powder prevents unwanted gold leaf from sticking.
Below, the size is applied we add a bit of yellow paint to it. As the size begins to dry, the gold leaf sheets cover the size. We place them carefully and press them onto the size gently so as not to mark them. We also use talcum powder on the leatherette background to prevent the loose flakes of gold leaf from sticking to the sign face.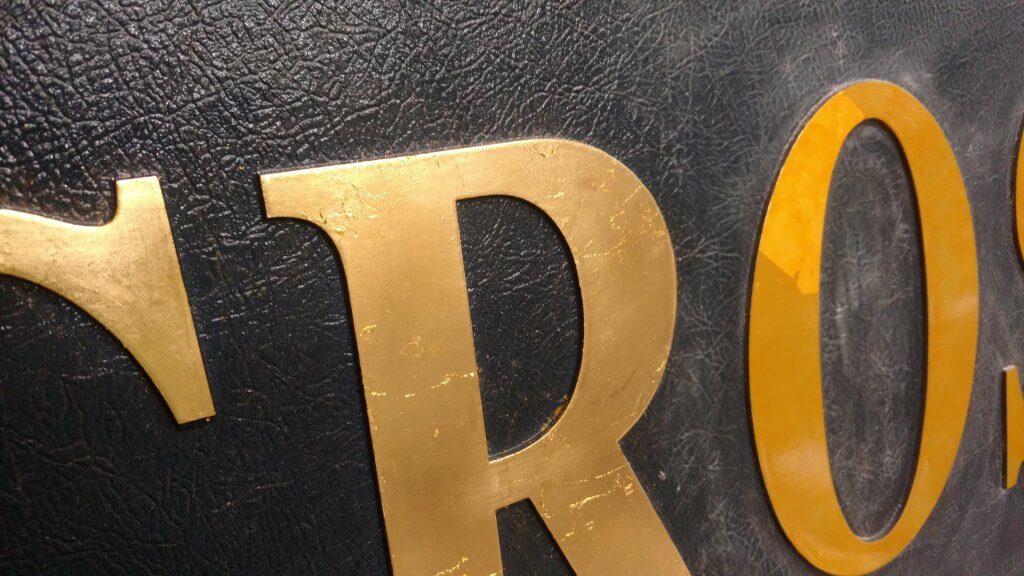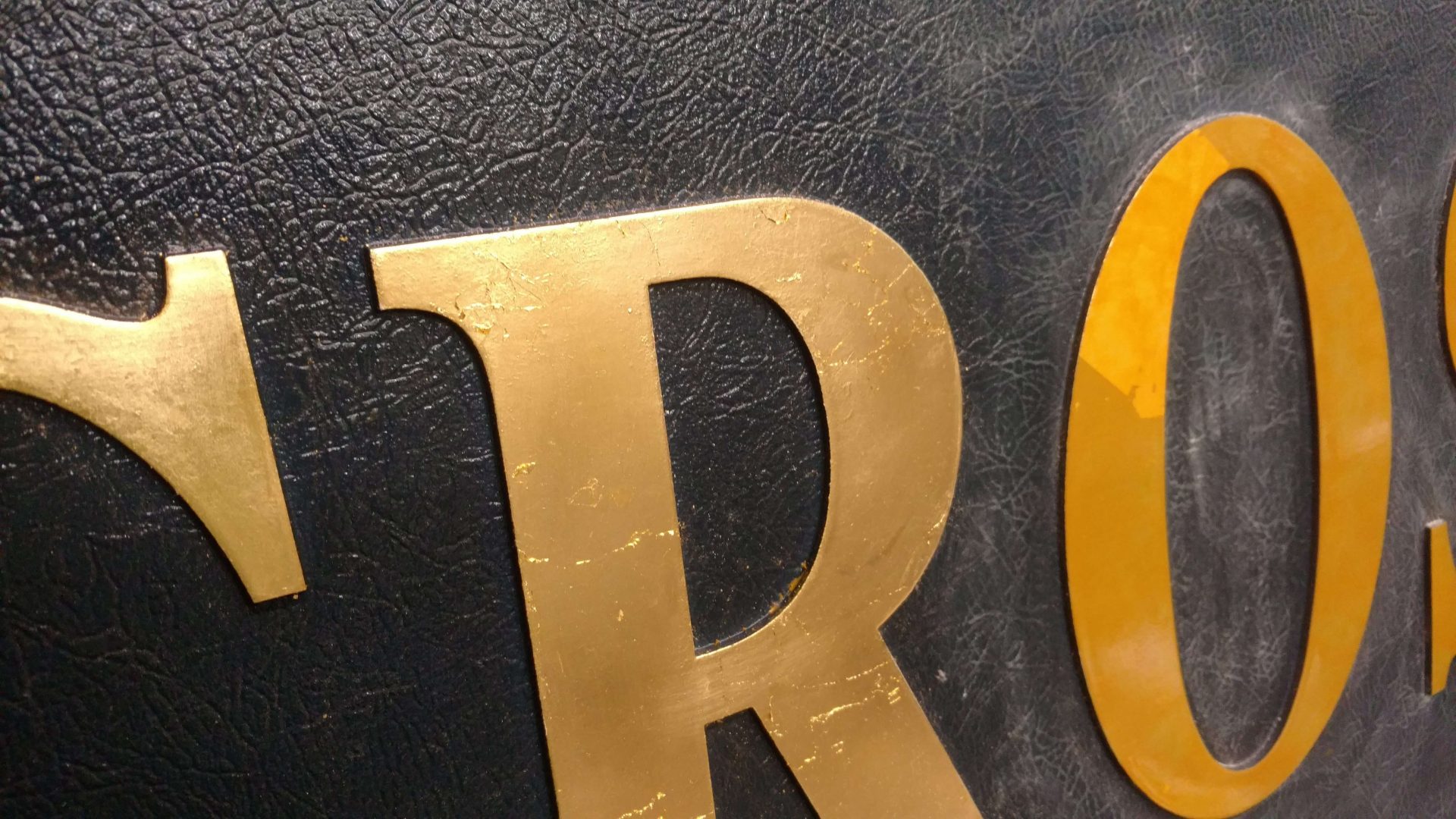 Finally, the letters are polished with cotton, and the background of the sign is wiped with a damp cloth to remove the talcum powder and loose gold.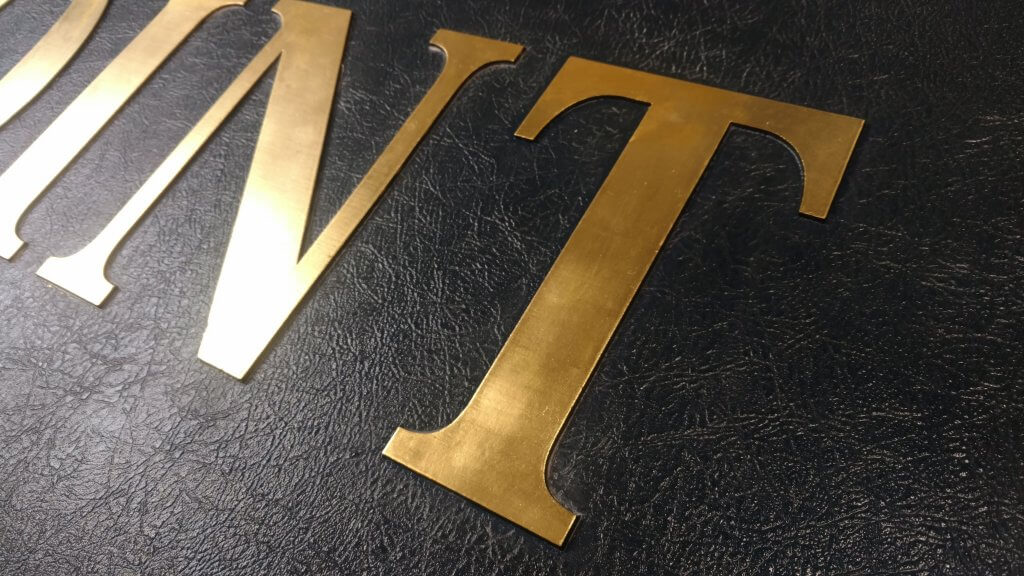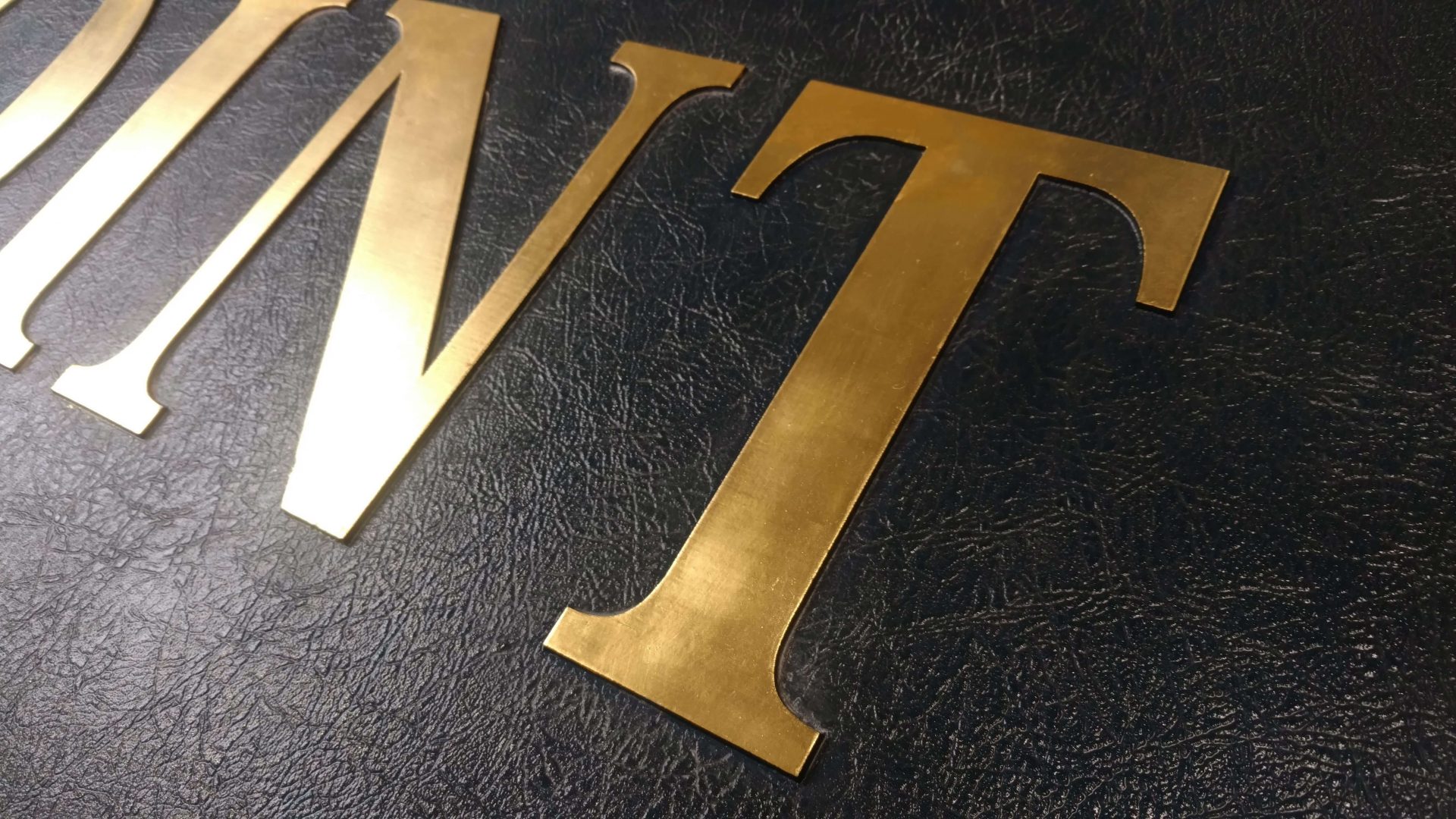 We have finally installed the new plaques, and now the stone veneer and caps are being finished too.  Indeed, these Neighborhood Plaque Signs are starting to look really good! The finished product will be beautiful, and these cast plaques are guaranteed to last for many years to come.