We restore antiques by hand.
Gold leaf restoration by Designs & Signs; it's just one of the many excellent gold leaf sign services we offer. At our shop or on-site, we can restore gold leaf on antiques of all sorts and even restore gold leaf on monument lettering. For example, Brendon Brandon restores an antique fire coach to its original glory in the photo below. The genuine 23 karat gold leaf and outline make this old coach look brand new again.
We reference photos to restore antiques accurately.
Historical photos of the red fire coach gave us a good idea of what it looked like long ago. We were able to replicate those designs accurately. Somebody found this coach abandoned in a shed at the United States Naval Academy. The owner repainted the coach and redied it for the application of gold leaf decorations. Before repairing the coach, we photographed the coach and took a tracing of the original design. We used the photo and tracing to create a new pounce pattern for the coach. At that point, the coach was stripped and repainted for us. Then the owner delivered it to our shop for gilding.
We recreate gold leaf decorations with pounce patterns.
First, We used the pounce pattern to transfer the drawing onto both sides of the coach. Then, Using a fine lettering brush, Brendon applied the size by hand. Of course, gilding and gold leafing adds brilliance and shine to the design. There is no other good way to match the beauty of gold leaf. As a medium it stands alone. Finally, Brendon brings the gold leaf to life with a delicately painted outline. Certainly this black outline enhances the gold leaf by adding contrast between the gold and the red coach. Undoubtedly, color, depth and dimension are so important when we make signs. Without it, these letters would fade into the background and be far less noticeable.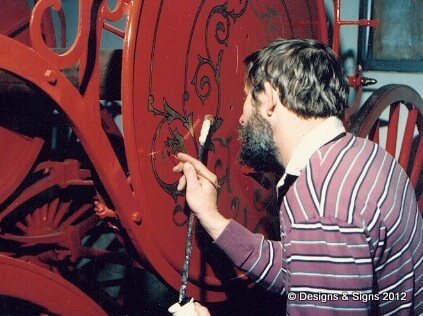 See more photos of our gold leaf restoration projects!