We gild house numbers by hand.
Your historic home in downtown Annapolis will look best with traditional gold leaf house numbers. Gold Leaf Annapolis, gold leaf Baltimore, gold leaf Washinton, DC; at Designs & Sign, LLC, our reputation is all about mastering the craft of gold leaf, or glass gilding. We would love to paint you traditional gold leaf transom numbers by hand. The process takes time, but there is no other way to do it well.
The Mirror Effect of Gold Leaf on Glass
Carefully consider this photo for a moment, if you will. Can you see the homes across the street? They are reflected clearly in the glass because of the light differential. Now, take a closer look at the number eight, and you'll see the mirror effect in detail. The chimney is reflected perfectly by the gold leaf number. Glass gilding with water size is the only way to achieve this effect. Now, look at the tiny scrolls on either side of the address. Of course, you can see right away that there is a difference.
Those scrolls are burnished. We create a burnished gold leaf finish on glass by using varnish to size the glass. Look at the scroll on the right-hand side of this photo. The house in the background disappears into the scroll. There is no mirror reflection of the house in that part of the gold leaf.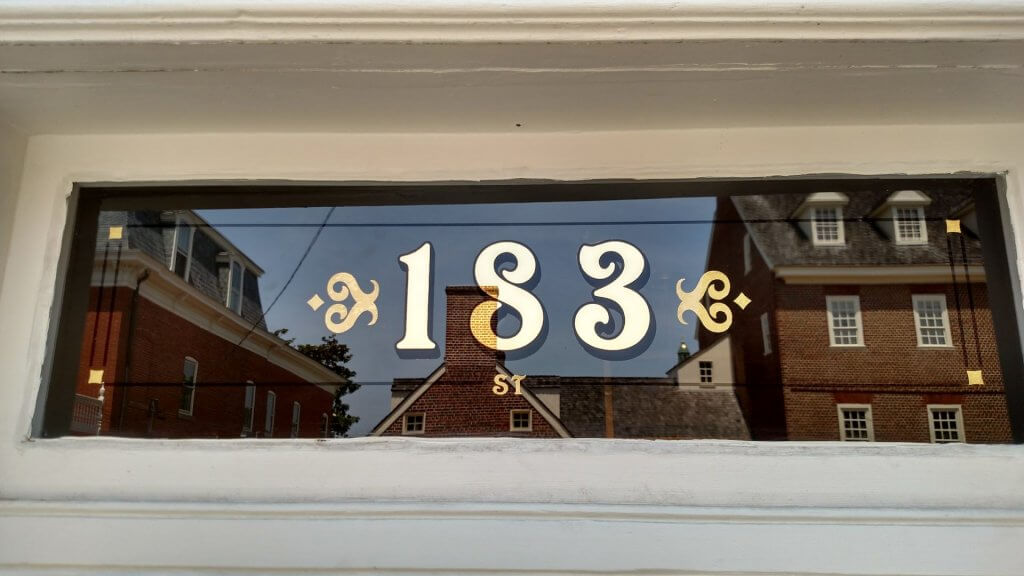 Choosing a Font for your Gold Leaf Annapolis House Numbers.
Our gilder will arrive at your home in Annapolis at 7 am, and they will finish your transom by one or two in the afternoon. Between setup, travel, and time-on-site, it's a full day's work for one person. We will collect a small deposit to get started, and then we'll send you fonts to review. Please choose only one font! Once you have made your best choice, we will send you back a drawing with measurements, we'll need to know the size of your transom too, and a photo of the transom is also helpful. Hopefully, you can send us those by email.
Our standard pricing includes numbers up to five inches tall. Indeed, we can render taller numbers, but this could increase the price too. Over the years, we've found that a 5-inch number is always big enough, and it limits our time on-site to about five to six hours. Gold leaf Annapolis numbers are not easy to create, so making them taller than five inches generally makes the job run into overtime, hence the necessary price change.
183 – Gold Leaf Address with dingbats.
Sometimes customers ask us to add a little something extra to their transom, something special and unique, something to set their home apart from others on the block. Of course, we can add distinctive outlines, as we did at this home in Washington, DC. However, we can also add dingbats and flourishes of a whimsical sort, as we have done for 183. Such a happy-looking home when you consider the addition of a few small decorative elements; this transom stands out! Bright borders and such, just another great way to make Gold Leaf Annapolis numbers look their best on your historic home!
Ask questions about glass gilding.
We have done our best to provide numerous photos and plenty of targeted information about our gold leaf numbers and glass gilding projects. Using our website to learn about our craft should be helpful. However, we are confident that you will have questions about what we do. If so, please shoot us a message online, and we'll help you out as fast as we can. Usually, you'll receive a response within 24 hours.
More about gold leaf Annapolis. https://twitter.com/DesignsandSigns