Cast bronze letters are resilient.
Designs & Signs created a cast plaque for Washington Hebrew Congregation in Washington, DC. The raised polished letters demand your attention.  A recessed leatherette background provides the necessary contrast, which shows off the letters even more. Cast bronze plaques will last decades, even in the harshest outdoor climates. Please take a moment to browse our site. We have photos posted of our cast plaques and other dimensional signage. Please get in touch with us for a quote! Thank you.
We'll revise your concept as needed.
The turnaround time for cast letters and cast plaques can be four weeks. Before we begin with your design, we'll need a deposit. Usually, we can provide a drawing for review within a day or two, and then as you advise us, we can make any necessary changes to the picture. Adding copy, changing images, and such, we will proceed with your design until you are satisfied.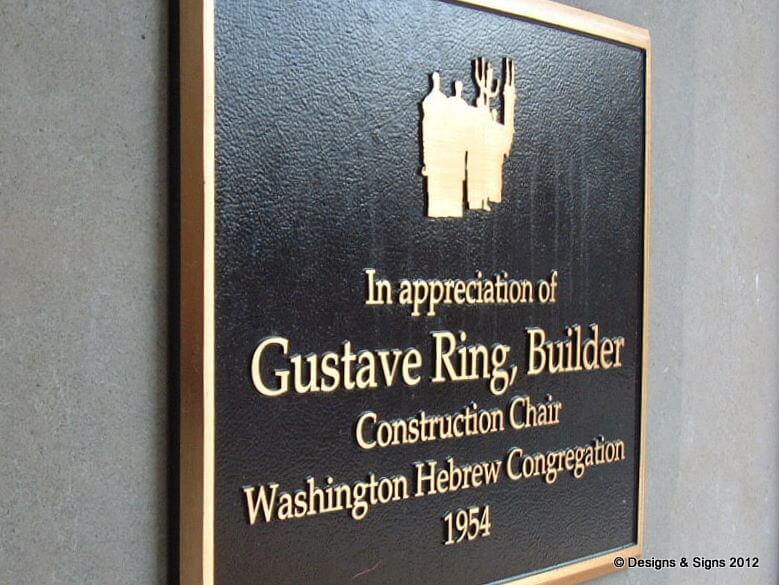 Cast Aluminum Plaques?
YES! We also make cast aluminum plaques, which cost less and last as long as bronze. Aluminum is an excellent lightweight material that holds up well against the elements. If cost becomes an issue, we can achieve comparable results with cast aluminum plaques and letters. Don't let the price fool you. They are just a good as bronze over the long haul.
About Washington Hebrew Congregation
Washington Hebrew Congregation has been around for nearly 170 years. It is "a community at heart who is progressive, inclusive, caring, compassionate and embraces their connection to Reform Judaism."