Designs & Sings letters awnings for Sunair Awnings & Solar Screens. Our awning graphics look great, but we can only apply them in our shop. Generally, we do not letter awnings on-site because the degree of difficulty makes the job too risky. Any small mistake with lettering inks could ruin the canopy. We want to avoid this situation at all costs. However, if you make and install awnings and look for a graphics provider, we can help. Lettering on any storefront awning is sure to bring in new customers.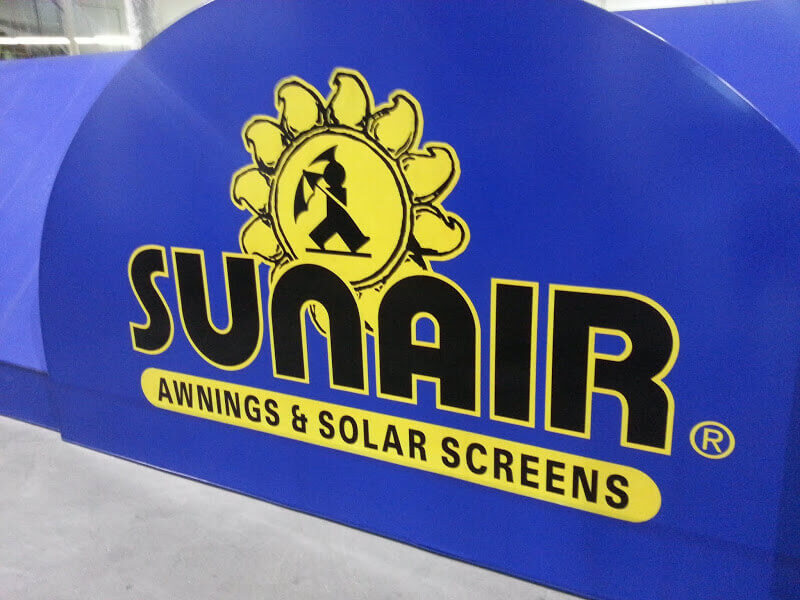 We letter many commercial awnings for Sunair! Translucent two-color logo. This awning is on display outside the Sunair factory in Jessup, Maryland. These translucent graphics were tricky to install, to get them just right, but we took our time, and it came out perfect!
Sunair Awning Graphics & Solar Screens look great.
Initially founded in 1880, the company originated in Sweden and manufactured sun and rain umbrellas. In the 1960s, the company changed into a manufacturer of retractable awnings and canopies. In 1978, Sunair founded its headquarters in the USA as a subsidiary of its parent company in Sweden. Thus, Sunair was among the first modern retractable awning companies to operate in the US. The company in Sweden was subsequently sold, with operations occurring solely in the US.
Source: Sunair awnings & solar screens
Source: YouTube
To learn more about Sunair awnings and solar screens, please visit the links below.